Improving Eye Care Services
The health and care system in Shropshire, Telford and Wrekin embarked on a programme of work to transform local eye care services. The aim is to provide effective eye care services that are more joined up so that adults and children get the best care possible when and where they need it. Watch this short film to find out more.
We ran several engagement activities that enabled us to capture valuable insight, including a public survey, community outreach and a series of workshops. Whilst most people told us that they had had a good experience of our services, we also heard about areas that could be improved.
Thank you to everyone who took the time to talk to us and share their views and experiences. All this rich insight will help us design a model that best meets the needs and wishes of our population.
The programme team has used all the learning gathered to design the future model. Read on to learn how you can find out more and share your views about our proposals.
Read our latest update about the programme here.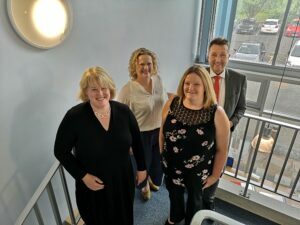 Meet some of the programme team (from left to right): Claire Roberts (clinical lead); Marie-Claire Wigley; Lucy Jones; and Barrie Reis-Seymour
Making our wider services sight loss friendly
We know that people with sight loss can face big challenges accessing services which can impact their decision to seek support, their ability to manage their health, and their experience of care.
We want to do better in Shropshire, Telford and Wrekin so we have teamed up with the experts – people living with sight loss – to understand their experience of our services and how they think it could be improved.
Claire Roberts, Clinical Lead for the Eye-care Transformation Programme, said: "We must remember, people with sight loss don't just use our eye-care services, they use all our services, so it's important we consider their needs across the system.
"From receiving information they can't read, organising transport, struggling to find the reception desk, toilet or coffee shop, or navigating a busy waiting room with bags littering the floor, accessing our services as someone with sight loss can be really difficult.
"Our experts by experience have helped to identify some simple ideas (top tips) for how we can make things better, from looking at patient communications to giving staff the confidence to ask people how they want to be supported.
"Our next step is to refine those ideas and create a really engaging suite of training resources with input from our experts – so watch this space!"
Thank you to everyone who has been involved and Sightloss Shropshire,  Shropshire Council and  Telford & Wrekin Council for their support and the introduction to our experts.
To find out more about this exciting project, please contact Jo Bayliss at jo.bayliss@nhs.net