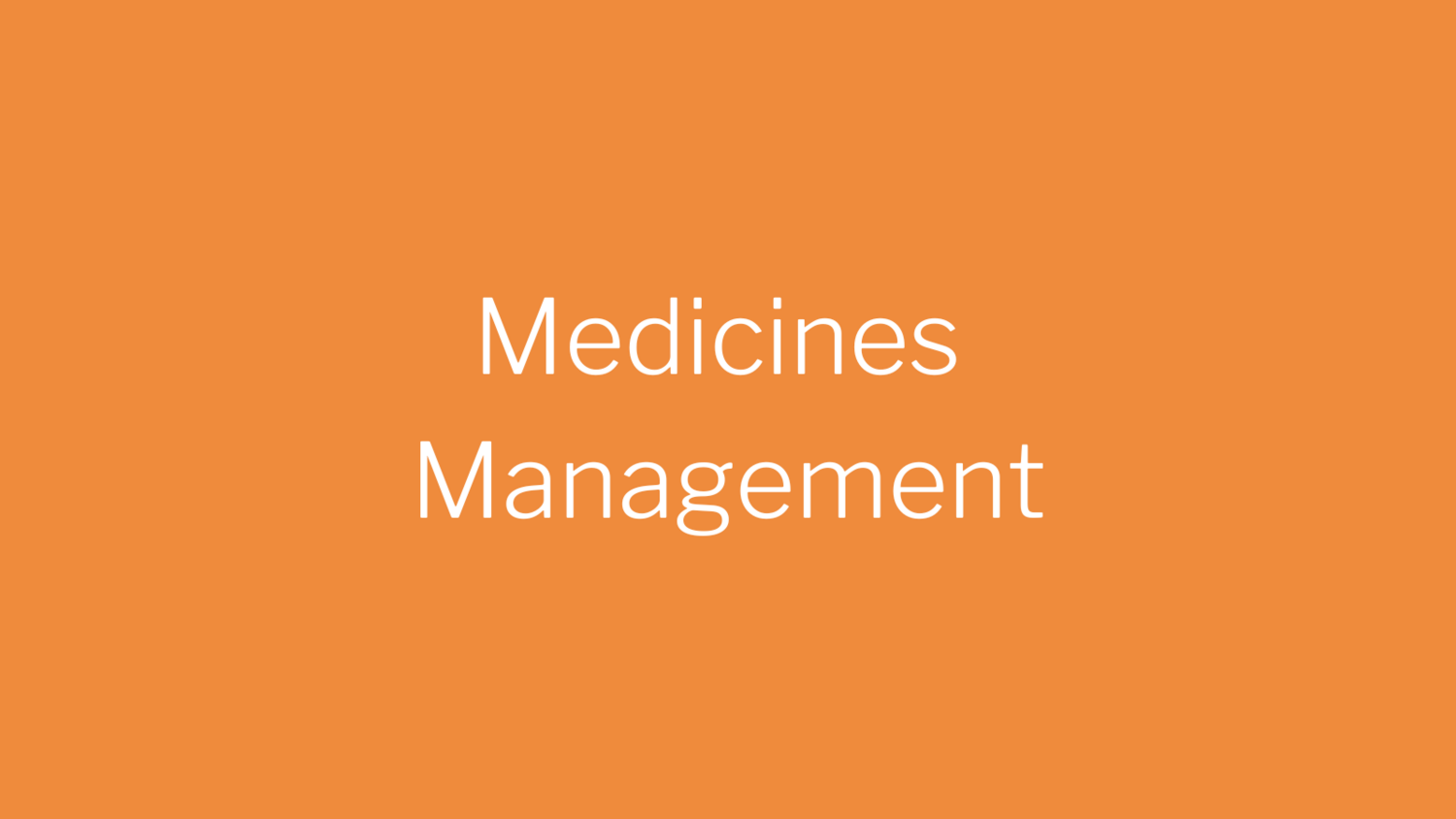 Medicines management transformation
Medicines management is transforming into medicines optimisation which is a change in focus to ensure that we get the best possible outcomes from their medicines, through the adoption of patient-focussed approach to medicines use. There are four guiding principles:
Aim to understand the patient's experience
Evidence-based choice of medicines
Makes sure medicines use is as safe as possible
Make medicines optimisation part of routine practice
What do we want to achieve?
The transformation of medicines management will be driven by a population health management approach using data and information to improve patient health outcomes, reduce health inequalities, ensure our population has access to the right medicine at the right time in the right place, improved health outcomes for patients, and improved medicines safety reducing hospital admissions related to medicines (HARMS). This work will address unwarranted variation ensuring equitable access to treatment.
We will drive better value from medicines, promoting cost-effective and evidence-based prescribing, ensuring the ability to invest in new innovative treatments offering the best value for the NHS enabling the maximum number of patients to be treated.
How will we do this?
The single biggest challenge we face in medicines and pharmacy across our system is workforce. Workforce development plans are at an early stage, there is a vision of having a fully integrated, flexible, clinical pharmacy workforce within our system that can deliver high quality and sustainable medicines optimisation at scale. We seek to develop opportunities for multi-sectoral 'system' roles from trainee pharmacists and technicians to senior level roles enabling their skills and expertise to be fully utilised to complement the multidisciplinary workforce across all sectors of healthcare.  We have ambition to develop shared training and development pathways, to build communication and joint working between all sectors of our workforce. Delivery of education and training for all prescribers is also key to supporting and enabling consistent delivery of our medicines value priorities listed above.
We will use available prescribing, hospital admissions and public health data for our population to provide intelligence and inform the system priorities for medicines optimisation. We will seek the views of our local population and patients to understand the health beliefs and ensuring local health needs are met.
We will ensure that medicines optimisation is integrated into service development, pathway design and clinical guidelines to ensure the optimal and consistent use of medicines within all settings across our system. We will work closely with specialist clinicians and consider treatment pathways and how this guides medicines choice, so that we are achieving the best value for the NHS and the best treatment outcomes for patients.
Primary care has access to a number of digital tools to support high quality, cost effective and safe prescribing, including Script-switch, Enterprise and Eclipse. We plan to build on this to support patients and prescribers through better use of information technology and effective use of decision support tools. There is an ambition for a fully integrated electronic prescribing system and records for all of our NHS providers, with effective links to communicate with primary care and community pharmacy.
What has been done so far?
There is an established Pharmacy Leadership Group (PLG) for our Integrated Care System who have  responsibility and oversight for the development and delivery of the strategy for medicines and pharmacy across Shropshire, Telford and Wrekin. This includes Chief Pharmacists from the Robert Jones and Agnes Hunt Orthopaedic Hospital, the Shrewsbury and Telford Hospital NHS Trust, Midlands Partnership NHS Foundation Trust, the Shropshire Community Health NHS Trust and community pharmacy and primary care network (PCN) pharmacy representatives. .
We have established an area prescribing committee (APC) with system-wide membership which has responsibility for introducing new medicines into our system formulary; medicine optimisation and making best use of our resources. We have an ICS formulary that is agreed at the (APC) with input from GPs and specialist clinicians.
The ICS medicines safety group was established in November 2021. This group will ensure we have a collaborative system approach to medicines safety, linking into the national priorities, regional medicines safety groups and to provide a forum for a local response to medicines incidents, safety and an opportunity for shared learning within our system. The group has key priorities of focus for 22/23 including opioid prescribing, sodium valproate in women of childbearing potential and anticoagulant prescribing.
There is a system antimicrobial formulary, which is used across primary and secondary care. We are in the process of reviewing our system approach to antimicrobial stewardship and are strengthening our collaborative system approach. We have a newly formed system antimicrobial stewardship group which includes wider representation from the system including infection prevention control, public health, dentistry, veterinary providers. The ICS group will develop a system wide strategic vision for antimicrobial stewardship.
The ICB has a highly skilled and experienced medicines management team with strong and established relationships with Primary Care, pharmacy partners and wider clinical teams and specialists across our system providers. The formation of the ICS allows for an exciting and visionary future for Pharmacy with the key focus of improving health outcomes for people across Shropshire, Telford and Wrekin.