Mental Health Services
We aim to deliver the best care to patients, people and families in our local communities by working effectively with partners to help people live well. Our strategy is to deliver whole person, place-based care using a population-based approach to mental disorder prevention and mental wellbeing promotion.
NHS mental health services in Shropshire, Telford and Wrekin are provided by Midlands Partnership University NHS Foundation Trust (MPFT). There is a lot of useful information on their website.
To learn more about different mental health issues and how they can affect you, visit 'Every Mind Matters'.
Adult Mental Health Services
If you need urgent support for your mental health, please call MPFT's mental health 24/7 helpline on 0808 196 4501 or e-mail access.shropshire@mpft.nhs.uk and their dedicated local staff will support you to access the help you need. 
Adult Mental Health services include:
To access services 
An Access Team provides a single point of contact for all MPFT's adult mental health services, including people with dementia. The team is available 24 hours a day, 365 days a year.
Shropshire, Telford and Wrekin Access Team
Telephone: 0808 196 4501
Children's Mental Health Services
Children's mental health services are provided by BeeU.
BeeU is the emotional health and wellbeing service for people, up to the age of 25, living in Shropshire, Telford and Wrekin.
Bee U Access Team 0300 124 0093. 
Student mental wellbeing tool kits
  Schools                                                              University and further education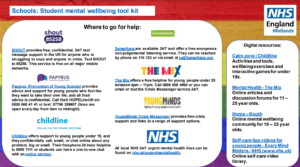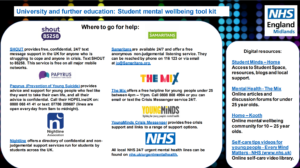 Teachers and education professionals                          Parents and carers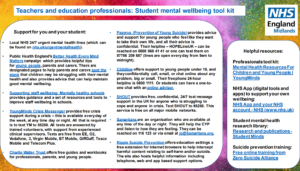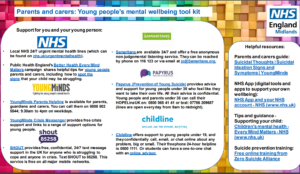 Depression, Anxiety or Low Mood
Substance Misuse
Telford After Care Team and Shropshire Recovery Partnership (SRP) help people in their ongoing recovery from using drugs or alcohol.
Telford STaRS provides free, confidential and easy to access service for anyone needing support with their alcohol or drug use living in Telford and Wrekin.
Recharge Telford, will support you if you are aged 12-21 and have issues with drugs, alcohol or any addiction, or if you live with a family member who struggles with addiction.
Dementia
If you are concerned that you or a family member is having problems with dementia please see your GP.
To learn more about dementia support visit Age UK for details of support groups in your area or the Alzheimer's Society for information about dementia companions.
Suicide and suicidal thoughts
Suicide bereavement
The loss of a loved one through sudden unexplained death and suicide is a uniquely devastating circumstance. It can create a particularly complex set of feelings in those left behind and leave us with unanswered questions which are hard to resolve. Specialist support is available to people who have been bereaved and need support and guidance during this period of time. Click here to learn more.