Ask About Asthma
In September, the NHS in Shropshire, Telford and Wrekin celebrated #AskAboutAsthma Week 2023 to help raise awareness of good asthma management to people across the county.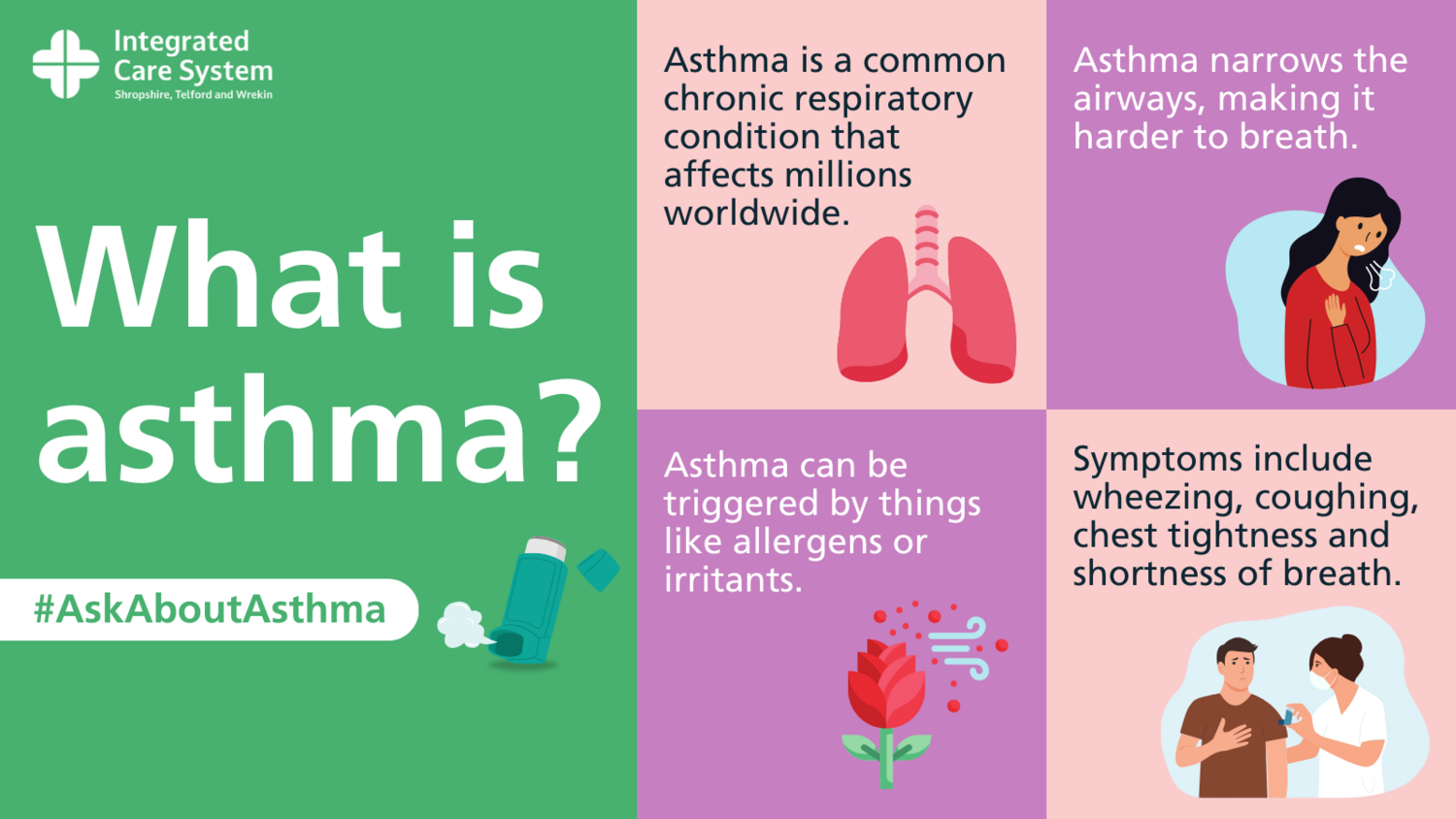 Now in its seventh year, the #AskAboutAsthma campaign encourages small changes to children and young people's care that will make a big difference to how they manage their asthma. 
Please see below for a series of useful videos from our Asthma Nurses to learn more. 
For 2023, the #AskAboutAsthma campaign ran between Monday 11 to Sunday 17 September ahead of the rise in asthma attacks when children and young people return to school after the summer holidays.
This year's theme was "widening our view" which aims to raise the profile of asthma; reach out to those who have asthma in the county, as well as their friends, families and the whole support system that cares for them. 
The campaign for NHS Shropshire Telford and Wrekin centred around four actions to help manage asthma and involved outreach activity with schools and parents, as well as voluntary organisations and system partners. 
The four actions for #AskAboutAsthma are: 
Raising awareness of the importance of annual (every year) asthma reviews at GP practices and booking a review after every attack.

Ensuring an asthma action plan is in place for individuals to aid good asthma control.

Increasing understanding of how to use inhalers correctly and how it is advisable to use a spacer devise.

Raising awareness of what good asthma management looks like, at home and in schools, as well as how simple actions can save lives.

 
What is an Asthma Management Plan?
What Good Asthma Looks Like
Reliever Inhaler and Spacer Devices Tutorial
Lynette Charles, Asthma Nurse and Clinical Lead for Asthma for NHS Shropshire, Telford and Wrekin, said:
"Asthma is the most common long-term condition among children and young people and is one of the top ten reasons for emergency hospital admission in the UK. It is therefore very important to spread these important messages so that people feel more confident and assured that they are handling asthma as well as they can be.
"Even when asthma is well controlled, it is so important to have a regular asthma review once a year. Regular check-ins with a healthcare professional can highlight any potential issues with inhaler use and can offer helpful hints and tips for good management.
"Many of our patients don't realise that using 'blue inhalers' (salbutamol/reliver inhalers) more than three times per week or one night per week is a sign of bad asthma control. An asthma review would spot this, and advice would be given to help.
"I look forward to raising awareness during #AskAboutAsthma week and hope that our work will make a difference to the lives of those people living with asthma or caring for someone with the condition."