Shropshire Nurses inspire local children with special assembly to celebrate International Nurses Day
Staff and pupils from St. John's Catholic Primary School, Bridgnorth were excited to welcome a team of nurses from Shropshire Community Health Trust (ShropCom) for a
s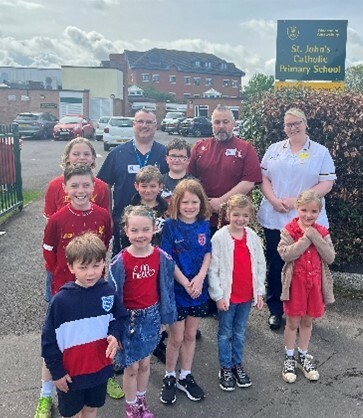 pecial International Nurses Day assembly.
During the assembly, the children were kept engaged by the team from ShropCom as they shared what it means to be a nurse, key tips and advice on how to become a nurse along with funny anecdotes from their careers so far – much to the amusement of the children.  And all with the hope of inspiring the next generation of nurses.
Richard Allman-Evitts, Senior Nurse Virtual Ward said:
"We hope to inspire the next generation of nurses, and to show local children how they can be the nurses of the future.  It's a real pleasure and a privilege for our team to have the opportunity to visit local schools and to talk with children about the role our nurses play in taking care of their local community."
Joining Richard at the assembly were his colleagues; Mark Goodfellow, Nurse and Clinical Digital Lead and Nurse and Stacey Leese - Student Nurse.
Following their inspirational talk from the floor was then given over to the children who had the opportunity to ask the team a range of questions the pupils had organised with their teachers prior to the visit assembly.
Mrs J Buzzing, Head Teacher at St. John's Catholic Primary said:
"The children left the session with a newfound appreciation of nurses, a better understanding of the work they do and a knowledge of the different types of nurses we may come in to contact with throughout our lives."
International Nurses Day is celebrated annually on 12 May, the birth anniversary of Florence Nightingale, the founder of modern nursing.