Senior healthcare leaders donned their original uniforms and went 'back to the floor' to celebrate 75 years of the NHS
Last week, Executives and Directors from Shropshire Community Health Trust (ShropCom) and NHS Shropshire, Telford and Wrekin (NHS STW), revisited the roles that kick-started their NHS careers
This was part of a series of special anniversary shifts to celebrate 75 years of the National Health Service.
Chief Executive of NHS STW, Simon Whitehouse and Claire Horsfield, Director of Operations at ShropCom, joined forces on Wednesday 5 July at Bridgnorth Community Hospital.
Both qualified physiotherapists, they went 'back to the floor' to support staff at the hospital and assisted in the delivery of services to patients, while also taking time to reflect on their own career journeys.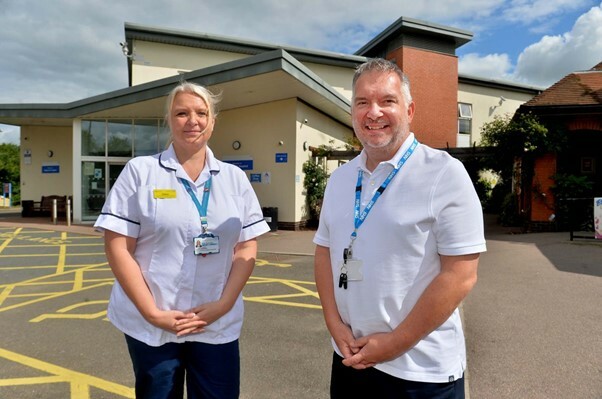 Pictured: Claire Horsfield and Simon Whitehouse in the uniforms they wore when starting out their careers in the NHS
Pictured: Claire Horsfield and Simon Whitehouse outside Bridgnorth Community Hospital
Claire said: "It's really important to be able to come out, spend time with the teams and also to see and interact with patients.
"You gleam so much when you're out here – you can see how things are actually working on the ground and you get some amazing ideas from the guys here and the service users too.
"It's an absolute privilege, it really is, and the team here are fantastic. A lot of them are new – new to the NHS and to us – it's a developing team which is great, so it's a real privilege."
Claire qualified as a physiotherapist 25 years ago and moved into a leadership role about nine years ago.
Reflecting on her career journey, she said: "As a youngster I was quite sporty, but also very clumsy, so the combination of those two things – playing netball and doing athletics – meant that I generally had a lot of musculoskeletal problems.
"I had physiotherapy as a youngster and then a family friend had a private practice, so I was just pulled towards it.
"I was really intrigued by the idea of it and that was at age 13 so all the career conversations through school and college led me there.
"I was probably told I wasn't clever enough at that point, so I worked really hard to get the A-Levels and grades that I needed to get into university.
"I went to Sheffield Hallam to do my degree course and that gave me more exposure to the profession and showed me what the NHS can offer."
After qualifying, Claire returned home to Shropshire where she worked at Telford's Princess Royal Hospital as a junior physiotherapist.
She did several four month rotations through the different areas, working in the Intensive Therapy Unit (ITU), with neuro-patients, musculoskeletal outpatients, but her main love was working with patients who have issues with their bones, joints, or muscles, possibly because of general wear and tear or trauma from an injury.
Nine years ago, Claire made the move into a leadership role in quality and service improvement, looking to see what outpatients could be doing better and where things might have gone wrong.
When asked about what makes the NHS so special, Claire was quick to answer – the people.
"It's the interactions you have with patients and the public; it never ceases to amaze me how welcoming they are of us into their lives and particularly with physiotherapy, the need is really great," Claire said.
"It's that, along with the people you work with. My best friends are the ones I have made while working within the NHS and I think it's really community-focused. It's a really special workforce."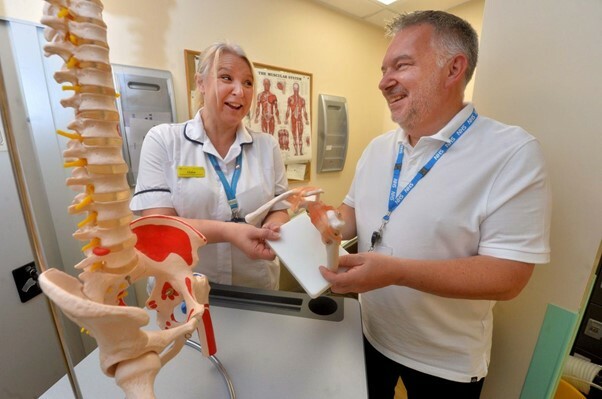 Pictured: Claire Horsfield and Simon Whitehouse
Last week marked the first time Simon has been 'back to the floor' to work clinically for around 15 to 20 years.
He said: "The really interesting thing about being back in a physiotherapy department is that it feels like coming home, so it's immediately comfortable.
"You can chat to the physios and the team, and it feels like you've been in the department all that time as part of the team. It's not a difficulty, it's not awkward - it just absolutely feels comfortable."
Reflecting on his career journey, Simon said: "I had a football injury and really badly damaged my ankle, which I ended up having physiotherapy for whilst at school and I thought 'I quite enjoy this, and this is really interesting'.
"I then had work experience where the interest and idea grew and then I went through the A-Level route of applying.
"I actually started as a physio assistant at The Haywood Hospital, unqualified, and that was one of the best jobs I ever had.
"I then went to the Oswestry School of Physiotherapy and at that point I was the second year going through as part of the degree course, which was twinned with Keele University."
After his shift at Bridgnorth Community Hospital, Simon then hot footed it over to Robert Jones and Agnes Hunt, (RJAH) Oswestry. He then spent the afternoon working clinically with patients. It was at RJAH at that he first undertook his physiotherapist training.
After Simon's training, he went to work for The Chartered Society for Physiotherapy. Leading on to working for the Department of Health & Social Care being a part of implementing the new NHS pay structure. He then returned to Shropshire, Telford and Wrekin as Chief Executive.
When asked about what makes the NHS so special, his answer was 'the people', the same as Claire's. It's a 'privilege' which comes in two forms.
"There's the privilege that the patient or individual that is in pain or vulnerable has invited you into that period of their life," Simon said.
"And then there's the privilege of colleagues that you work with – qualified or unqualified – as well as the ambulance teams, the patient transport or the teams in the labs.
"You work in difficult and challenging circumstances and situations. There can be a stereotypical view of physio which is that it's just about sports injuries, but that's not the case.
"It misses out all of the other areas such as stroke rehabilitation, cardiac rehabilitation, working with children and intensive care. And there are situations there which can be really tough."
Simon has encouraged anyone who believes they might want to take up a role in the NHS to talk to people and find out about the opportunities on offer.
"Whatever role you can think of and whatever your interest is, there's going to be an opportunity in the NHS for you to come and contribute to the public sector" Simon added.
"It's also important to recognise that it's tough, it's challenging and it's not for everyone, so I would want people to come in with their eyes open but not to think stereotypically that it's just caring roles when there are so many other opportunities that exist."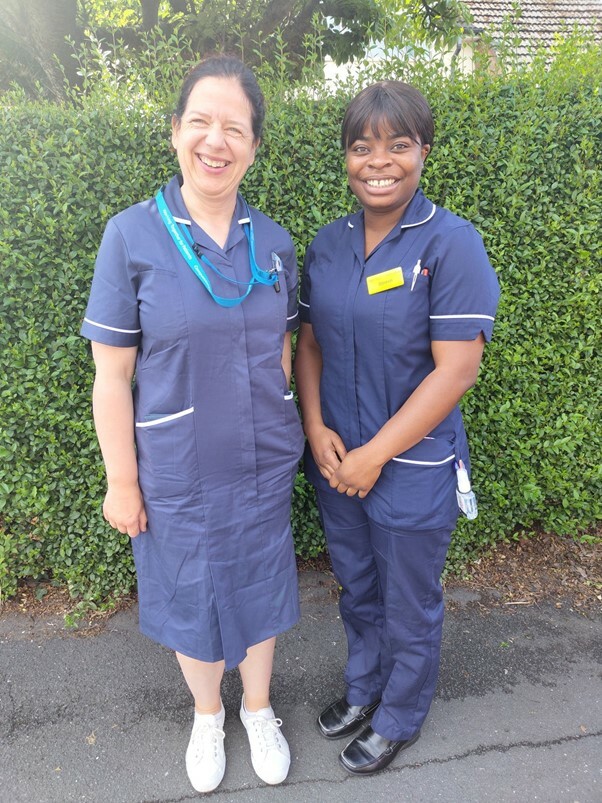 Picture: Chief Executive for ShropCom Patricia Davies and Doreen Agyei, District Nurse and Case Handler
Chief Executive at ShropCom, Patricia Davies, started her NHS career as a District Nurse and is still a practising nurse alongside her role as Chief Executive.
To mark the anniversary, she completed a shift with the North Telford District Nursing Team.
Reflecting on the anniversary, Patricia said: "I started my career as a district nurse, following in the footsteps of my mother, and it has been a real honour to be able to carry out clinical shifts alongside my role as chief exec.
"75 years of the NHS is an important milestone, and we want to come together with our partners to mark it by going back to the floor to work alongside some of the amazing teams within our trusts.
"It is an initiative that we as an exec team are looking to do more of in the coming months."