Let's work together to promote a local greener NHS
The NHS in Shropshire, Telford and Wrekin has set ambitious targets for delivering a net zero NHS.  
In order to achieve this, we plan to help reduce the emissions we control directly the NHS Carbon Footprint and those we have influence on the NHS Carbon Footprint Plus. 
The Medicines Management Team at NHS Shropshire, Telford and Wrekin are working hard to help contribute to the delivery of a net zero NHS by 2040. Medicines account to approximately 25% of emissions within the NHS in England, with respiratory inhalers contributing to 3% of this. 
Patients will be prescribed Salamol® (Salbutamol) metered dosed inhaler (MDI) instead of Ventolin® (Salbutamol) MDI which work just as well and in the same way. However, it has smaller amounts of powerful greenhouse gases to deliver medication into your lungs.
By making this change, you will be helping us in building a more sustainable NHS.
The aim is to optimise prescribing, substitute high-carbon products for low-carbon alternatives, and improve waste processes. Don't forget, as well as making the switch to Salamol® inhalers, you can also recycle your used inhalers at your local community pharmacy.
Read more about why you should choose a more environmentally friendly inhaler.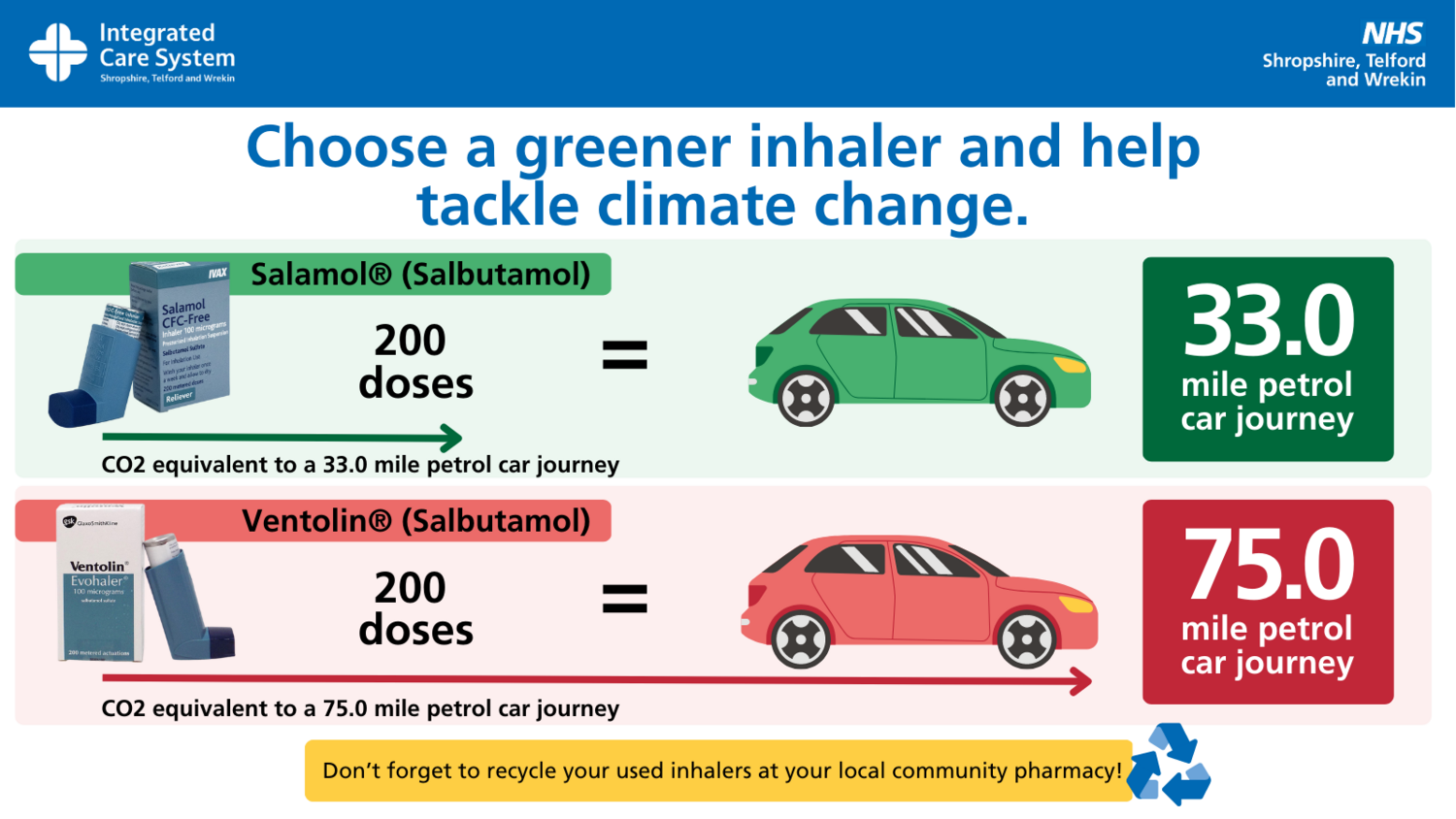 Spotting signs of poor asthma control
Alongside encouraging a switch from Ventolin inhalers to Salamol, we're also raising awareness for signs of poor asthma control. Keeping symptoms of asthma under control is important. If you find yourself needing your inhalers more than usual, or you're prescribed more than six Salbutamol inhalers in a year, it might be a sign of poor asthma control.
To take back control of your asthma, speak to your GP or healthcare professional at your next review.