BLOG: Psychological Wellbeing Practitioner, Sam, provides advice on how to prevent low mood and anxiety
My name is Sam and I am a Psychological Wellbeing Practitioner with the Shropshire and Telford & Wrekin Talking Therapies teams at Midlands Partnership University NHS Foundation Trust (MPFT). My job is to provide low-intensity Cognitive Behavioural Therapy (CBT) to support people with common mental health conditions, such as low mood and anxiety.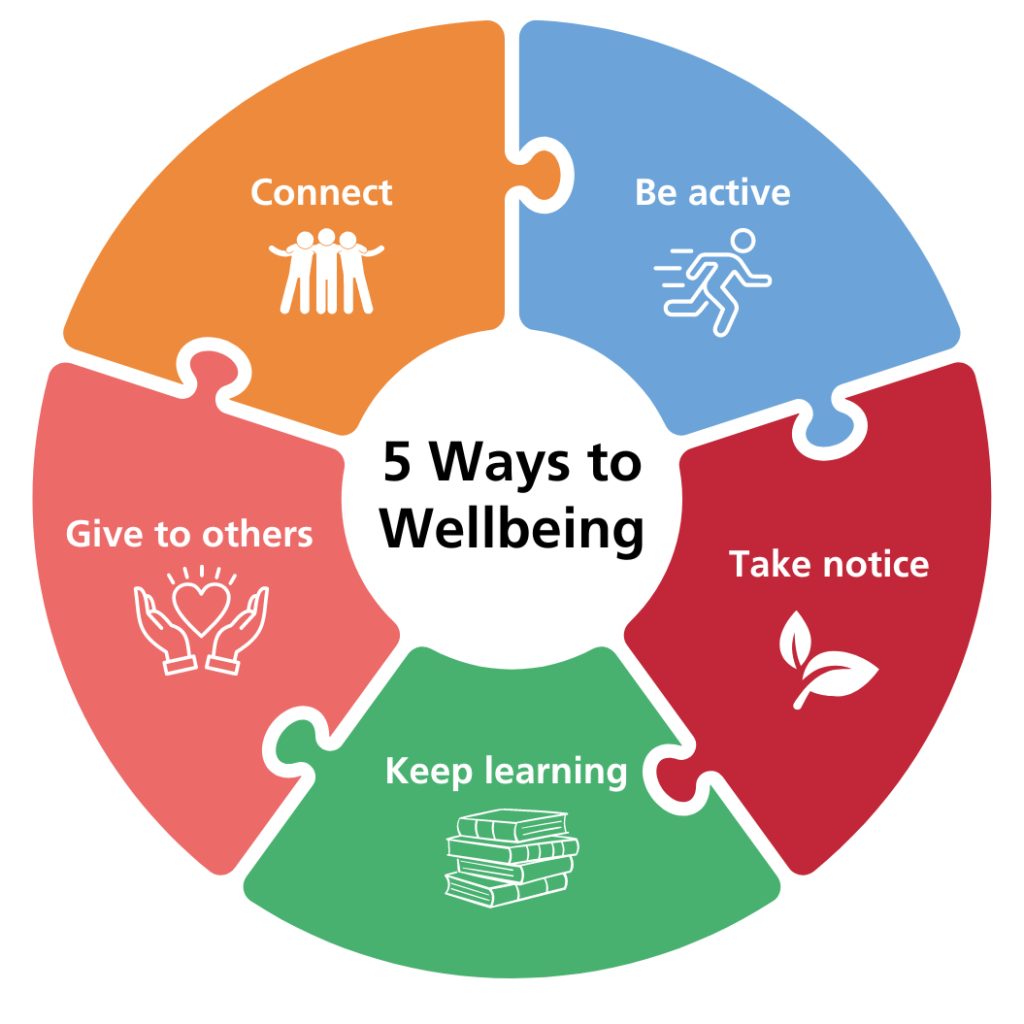 We can all find ourselves struggling with things such as stress, poor motivation, worry and lack of sleep from time to time. Whilst there is never a magic wand to take these things away, there are things that can help us manage when the world seems a little bit more difficult.  The 5 Ways to Wellbeing are research-based actions that can support positive mental health:
Connect – Connecting with other people can help with our self-esteem and give us space to share positive experiences. If you are unsure where to begin with building connections, our teams can help signpost you to places of interest, look at joining a group to learn skills and techniques, and support you with building motivation and reducing anxiety around connecting with others.
Be active – Physical activity can make a huge difference to our mood, and help us relax if we are feeling tense. For some people, particularly those with long-term health conditions being physically active can be a huge challenge. We can help with starting small, pacing and focusing on adapting activities to make them achievable.
Take notice – Children are always fascinated by the world around them, but we tend to lose this connection as adults! Focusing on being in the present moment can help ground us, but this can be hard to do if you are stressed or worried about something. Our team can teach you techniques to help you refocus and relax.
Keep learning – Keeping our brain active not only helps with our mental wellbeing, but can also give us a sense of purpose. Learning Cognitive Behavioural Therapy techniques with our team can give you skills you can practice for life to help whenever you are experiencing difficult times.
Give to others – Being kind to other people helps us to connect and belong; this can be as simple as saying 'thank you' to someone. On our online CBT programme, Silvercloud you can learn skills and then leave comments with advice and support for others who are also using the programme.
If you would like support for your mental health, whether you think you would like to manage your stress levels, get support with overcoming a phobia, or feel you are struggling with depression or anxiety, the Shropshire and Telford & Wrekin Talking Therapies team can help:
For people aged 16+ with a Telford & Wrekin GP, you can self-refer via our website https://twiapt.mpft.nhs.uk or by calling 01952 457 415
For people aged 16+ with a Shropshire GP, you can self-refer via our website https://shropshireiapt.mpft.nhs.uk or by calling 0300 123 6020
If you live in Shropshire and Telford & Wrekin and need urgent support for your mental health, call MPFT's 24/7 mental health helpline on 0808 196 4501, or email access.shropshire@mpft.nhs.uk.