Over 300 health checks for the farming community delivered since January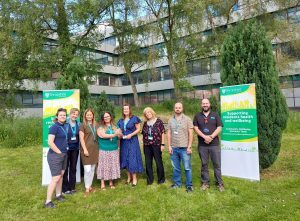 Shropshire Council's health checks for the farming community have gone from strength to strength since they launched at Shrewsbury livestock auctions in January 2023, with over 300 health checks now delivered.  The programme has been led by the council's public health team (including animal welfare and community wellbeing outreach teams) and Shropshire Rural Support.
Health checks are designed to assess the risk of potential medical conditions that we could develop, and spot any warning signs that we might not have noticed ourselves.  By detecting these warning signs early on, you can reduce your risk of health problems such as kidney disease, stroke, heart disease, type 2 diabetes or dementia - and the earlier your risk is detected, the easier it is to act upon.
Sessions include a free blood pressure check and opportunity to talk in private about any other health and wellbeing concerns.  The team are able to lend a listening ear and signpost services which might be helpful.  The health checks were set up in response to local data showing that the farming community in Shropshire are at particular risk of health inequalities, and conversations with the community highlight the long working hours as a barrier to seeking help when health problems arise.
The team were warmly welcomed in Shrewsbury and have since expanded the scheme to Ludlow and Market Drayton livestock auctions.  They have also been joined by partners from West Mercia Police, NHS Diabetes team and Severn Trent Water, bringing friendly and informal support on a range of wellbeing issues to the heart of the community.
In May 2023, the health checks for the farming community project won health promotion of the year at the West Midlands Public Health ball awards.  Looking to the future, the project will continue to grow, with plans to expand into other areas and partner with more local agencies.