Urgent Care Self-Service Tool in the Accident and Emergency (A&E) Department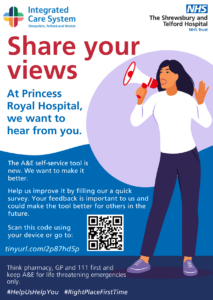 The Accident and Emergency (A&E) Department at the Princess Royal Hospital, Telford is piloting a new urgent care self-service tool, also known as the streaming and redirection tool, which is a kiosk-based service, provided as a web application, for patients who arrive at accident and emergency (A&E) departments and urgent care settings with no pre-booked arrival time.
Any patient attending A&E who needs emergency treatment will receive it, however, from Monday, 31 October anyone attending the A&E department at the Princess Royal Hospital whose care is not an emergency could be directed to an alternative service in the community more appropriate for their care, when it is safe to do so. They could be directed to an appropriate service such as an SDEC (Same Day Emergency Care), Urgent Treatment Centre, a local pharmacy, a local medical practice or a local dentist. Patients being directed to their local medical practice or dentist would need to contact them to make an appointment. If no appointment was available they would be given the option to remain in A&E.
How the tool works
Patients answer questions about the symptoms they have arrived with, so that the service can direct them to the most appropriate care. Depending on the answers they give, this could mean people are seen where they are, or they're referred to other appropriate services in the area.
The service has been commissioned as part of the 111 First initiative, which encourages everyone with an urgent health concern to visit 111.nhs.uk or call 111 to find out the best place to get help and to get booked in if appropriate.
The tool is designed to provide help and direction for patients who did not contact a 111-service beforehand and have arrived with no pre-booked arrival time or appointment.
The benefits
The tool aims to see a change to the way patients who attend A&E are cared for, potentially enabling them to be treated faster and closer to home. The tool aims for people to be seen in the right healthcare setting at the right time.
One of the major benefits of the tool is the expected improvement to patient experience. Crucially it is expected to reduce long waits in A&E, with patients directed to a more appropriate place for their care as those in urgent need of care are prioritised for treatment in A&E. This will also enable emergency care teams to focus on patients who attend with an emergency.
Share your views
Patients who have used the tool are being invited to feedback on their experience of using the tool and provide any comments or ideas for improvement