Shropshire's first Community Diagnostic Centre (CDC) is on track to open its doors to patients later this year.
The new centre, located in Telford, will see elective diagnostic tests delivered away from the acute hospital sites and separately from urgent diagnostic scans.
It will reduce waiting times for non-urgent tests and reduce the risk of cancellation, improving patient experience and outcomes, whilst at the same time bring more capacity into the system to reduce pressure on other services.
The CDC will now provide even more services than originally set out, including Echocardiograms, Lung Functioning Tests, Basic Sleep Studies, and Long COVID Clinics.
Other services will include:
CT (a series of X-ray images taken from different angles around the body)
Non-Obstetric Ultrasound Scans (non-invasive scans)
X-Ray
ECG (Electrocardiograms)
Phlebotomy (blood tests) with some on site point of care sample analysis.
The centre will be sited at Hollinswood House in Telford, which is currently undergoing a complete interior redesign to ensure it is fit for purpose and able to accommodate future demand.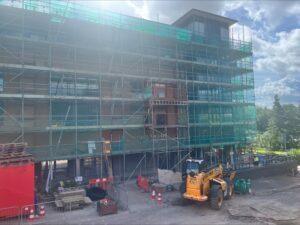 Image: External image of CDC August