Drive to tackle physical and mental health inequalities through physical health checks for people with severe mental illnesses
9 November 2022
People with severe mental illnesses are being urged to take up free physical health checks, as part of a drive to reduce health inequalities in Shropshire, Telford and Wrekin.
Locally, there are currently around 3,700 people who have been diagnosed with a severe mental illness (SMI), which includes bipolar, schizophrenia and non-organic psychosis.
These free, annual health checks are carried out in order to detect any potential concerns and discuss ways to improve overall physical wellbeing.
Evidence shows that life expectancy is 20 years lower for people with an SMI than the average population as they have an increased risk of some physical health problems, such as diabetes, heart disease, obesity and stroke.
The reasons for these higher risks are complex but could be due to:
· Side effects from medications – some antipsychotics are related to weight gain and diabetes
· Genetic factors
· Lifestyle choices – unhealthy diet, not enough exercise or smoking
Carly Pedley, Mental Health Nurse Practitioner and Non-Medical Prescriber said: "The work we are doing to support people with an SMI is absolutely vital, as we are tackling a huge health inequality gap.
"These physical health checks are important. Everyone's situation is different, but we know that good mental and physical health go hand in hand – and people should not suffer poor physical health because they have a mental health diagnosis.
"We urge everyone living in Shropshire, Telford and Wrekin and who has a diagnosed SMI to take up this annual check."
The 30-45 minute appointment includes weight and blood pressure checks, alcohol and smoking assessments and blood tests.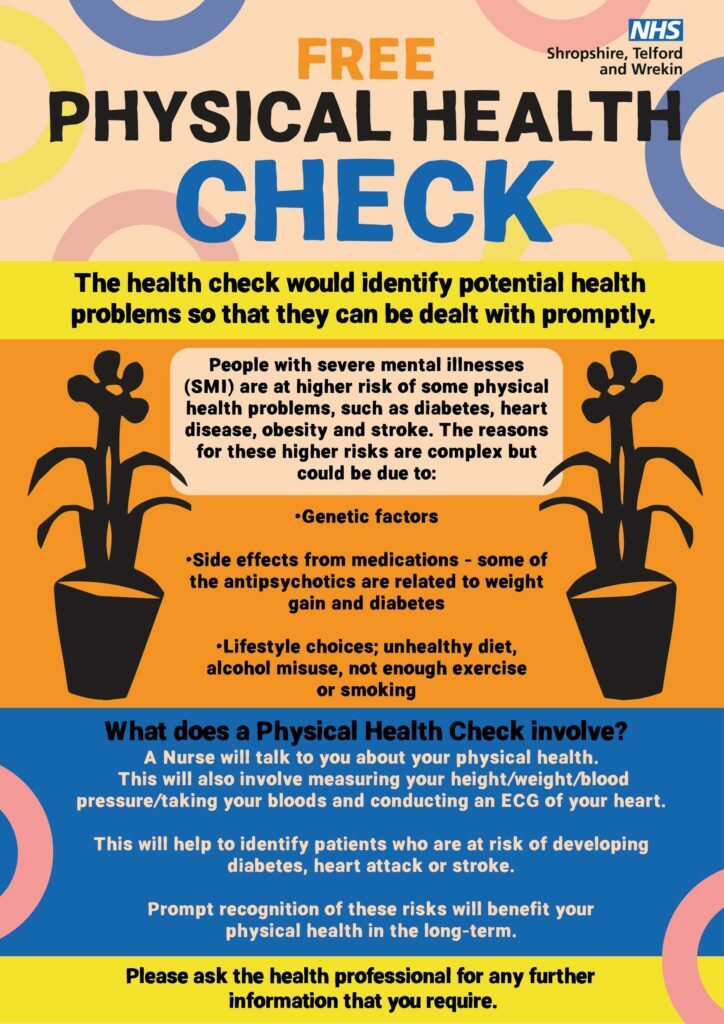 Page last updated 9 November 2022