Celebrating Pharmacy Technician Day in Shropshire, Telford and Wrekin
14 October 2022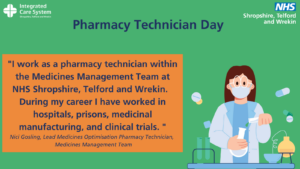 Tuesday 18 October is National Pharmacy Technician Day.
It is a day that allows us to recognise the invaluable contributions made by Pharmacy Technicians within our county and how they contribute to our health and care services.
There are a number of Pharmacy Technicians working in the Shropshire, Telford and Wrekin Medicines Management Team who are each integral to patient health and safety, as well as working in wider healthcare teams.
Claire Hand, Lead Medicines Optimisation Pharmacy Technician, said: "Today is a welcome opportunity to reflect on all the hard work that our Pharmacy Technicians do and how important their roles are.
"Often people do not fully understand what a Pharmacy Technician does. In a nutshell, we are registered healthcare professionals who play a vital role in helping patients to make the most of their medicines.
"Our roles span all areas of pharmacy practice from the purchasing, manufacture, preparation, supply and final check of medicines; to supporting medicines use reviews and the administration of medicines.
"We are key members of pharmacy and multidisciplinary teams, engaging with patients and liaising with other healthcare professionals in both primary and secondary care, to support safe and effective use of medicines.
"Our Pharmacy Technicians in Shropshire, Telford and Wrekin work as part of healthcare teams across primary and secondary care, for example in hospitals, community pharmacies, GP practices and care homes; but also in commissioning and prisons. It's a very interesting and rewarding career - there is never a dull day.
"The role of a Pharmacy Technician is varied, and we have a great team in Shropshire, Telford and Wrekin. Plus, we are excited to welcome new recruits into the fold over the coming months and I would like to encourage anyone to take a look at the opportunities on offer and find out more."
If you are interested in reading more about becoming a Pharmacy Technician, please click here. You can also click here to find local vacancies and trainee opportunities.
Click to read Case Study - Primary Care Network Pharmacy Technician
Page last updated 17 October 2022