Accessing GP Services
NHS Shropshire, Telford and Wrekin are proud of the 51 GP practices across the county. All practices provide high levels of care to local residents, with a team of expert clinicians, within the local community. GP services can be accessed in a number of ways, to suit you. Your GP practice offers different appointment types for your healthcare needs. 
How to access your local GP practice?
All UK residents are able to access a GP practice, regardless of immigration status. You can find your nearest GP practice by simply visiting the Find a GP service online and typing in your postcode to find a list of GP practices near you.  
To register, either phone or visit the GP practice.
Who will you see?
When you contact your GP practice for an appointment, the receptionist will act as a care navigator and assess your healthcare need. GP reception staff, or 'care navigators', are a vital part of the practice and ask questions to direct you to the best professional support. They have been trained to ask you the right questions and are bound by the same confidentiality laws as your GP.  
We can then establish the most suitable appointment type for your care need, as well as which specialist professional within the practice team is best suited to care for you. This may not always be a GP.
Each GP practice has a team of extended healthcare staff, including practice nurses, that offer specialist appointments.
Click here to find out more.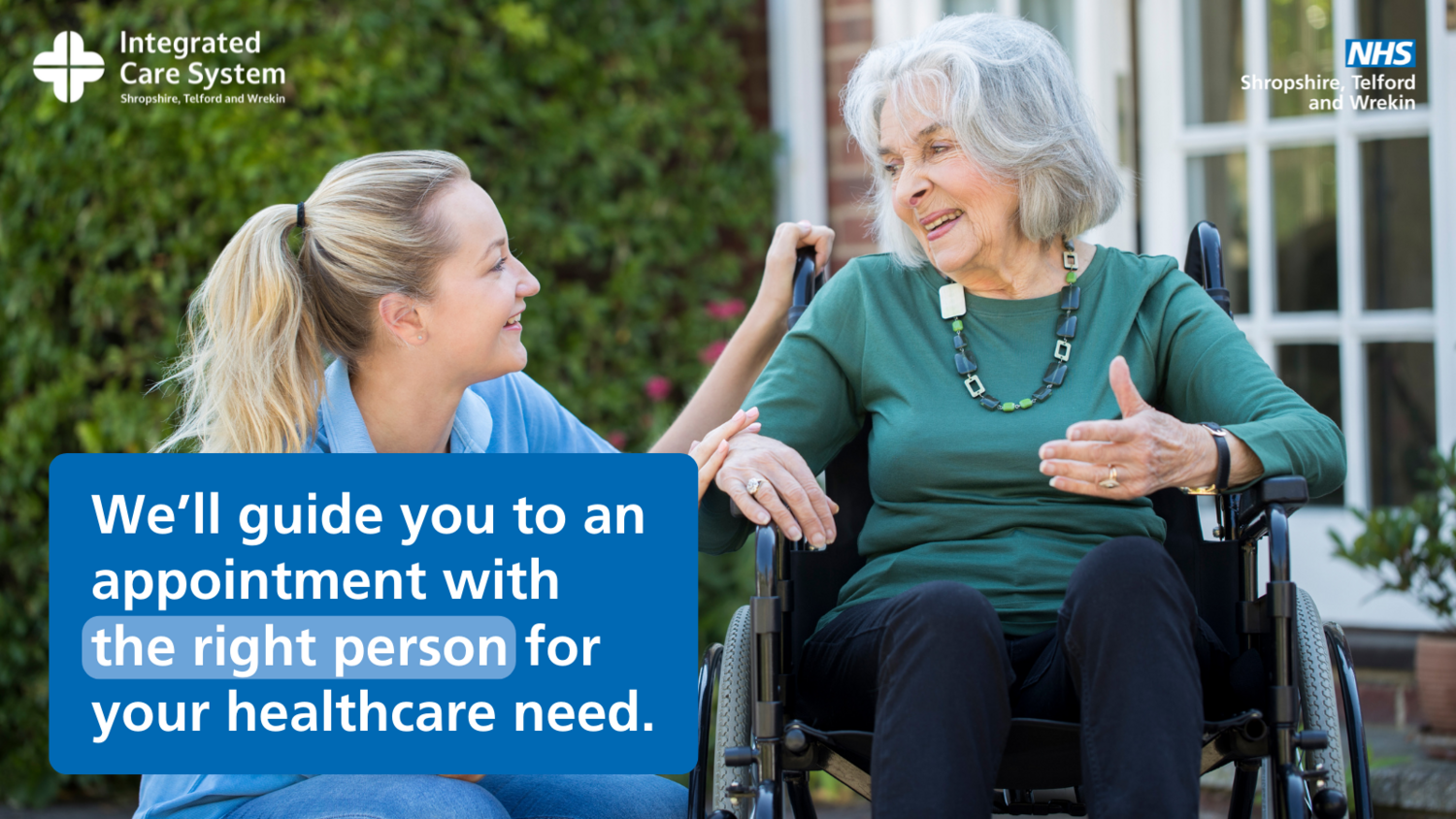 When will we see you?
GP practices across Shropshire, Telford and Wrekin are working together to offer patients appointments six days a week. This now includes evening and weekend appointments.
GP services will be providing appointments until 8pm on weekdays, and from 9am-5pm on Saturdays as a minimum. 
Appointments will be both bookable in advance and available for same day. A mix of services will be available within these additional hours with access to the range of health professionals working in the primary care team. 
There will be a choice of ways to access appointments depending on clinical need, such as telephone, video appointment, online consultation, or face to face.
This means you will be able to see a GP, nurse or other health professional at a time which is most convenient for you – either at your GP practice or a local NHS service nearby.
How will you be seen?
All GP practices are offering face-to-face appointments, video and telephone consultations.  
Some patients prefer remote consultations such as video or phone calls, as they can be more convenient and fit around other commitments. They can save you time, travel, work absence and childcare arrangements. However, we understand that many people prefer to see a healthcare professional in person.  
Remote consultations are being offered to make appointments more convenient for patients who can access them and to also ensure there are more face-to-face appointments available for those who really need them.  
Face-to-face appointments are always available, especially if a patient requires a physical examination or struggles accessing telephone appointments.
If suitable, an appointment can be prebooked with a local Pharmacist by your GP receptionist. Pharmacists are highly trained and qualified clinicians, and can be the best person to see if you require advice on minor ailments.
Your GP practice will help guide you to the best appointment type to suit you.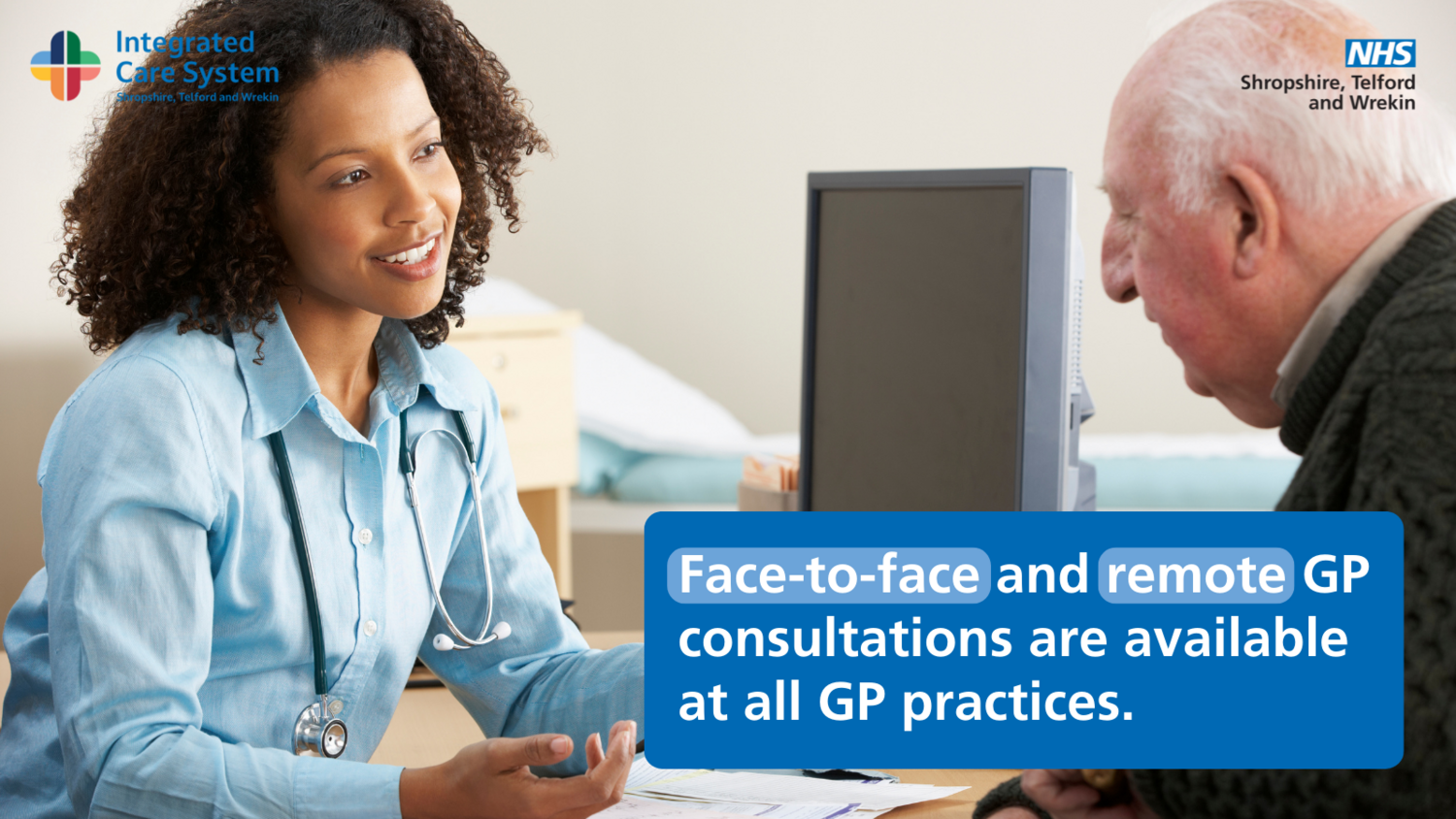 How to contact your GP practice online ?
Each GP practice in Shropshire, Telford and Wrekin offers an online consultation service via their website.
Firstly, complete a simple form about your problem or request. Your practice team will then decide on the best treatment for you. They will be in touch to give advice, a prescription or book an appointment.   
You can easily get advice about specific conditions like back pain, coughs, mental health concerns and more.   
If you want help for your child, you can seek advice for common problems like rash, earache, cold, flu, vomiting and diarrhoea.    
This is also the quickest and easiest way to make an administrative request, and frees up busy phone lines for other patients. By completing a quick online form you can request sick notes, GP letters or ask about recent test results.
Visit your GP practice website for more information.