Whenever you are out and about, remember to 'Take 2' steps away from others.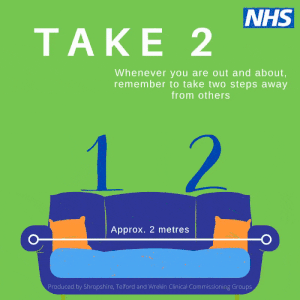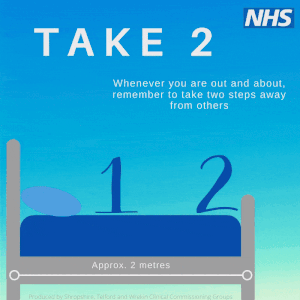 Members of the public are reminded to 'Take 2' large steps (two metres) away from others when they are out and about. This is approximately the length of an average bed/three-seater sofa/sun lounger/table for four.
The campaign which has been launched by Shropshire, Telford and Wrekin Clinical Commissioning Groups (CCGs) is being used to highlight the distance people need to maintain from each other to respect social distancing measures during the coronavirus outbreak.
'Take 2' aims to remind people that two metres is a greater distance than people might think.
The more a person comes into contact with the droplets from coughs and sneezes of an infected person, the more likely they are to catch the infection. It is therefore extremely important to maintain a two metre distance.
Please visit nhs.uk/coronavirus for the latest health advise or visit gov.uk/coronavirus for all other information.