Vaccine uptake reaches 100,000 in Shropshire, Telford and Wrekin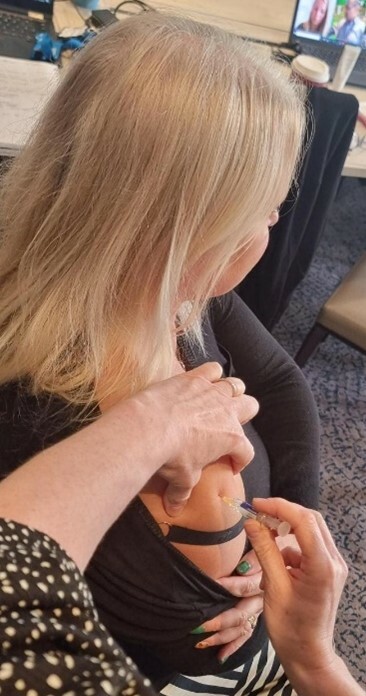 Following the success of the Care Home COVID-19 vaccine programme, the campaign has gone from strength to strength with COVID Vaccine uptake now reaching the 100,000 milestone.
This autumn's COVID-19 vaccination campaign began in September, initially focusing on Nursing and Care homes across the county, with clinics for other eligible residents beginning later in the month. At the halfway stage of the programme, the various providers, which include Shropshire Community Health NHS Trust (ShropCom), GP Practices and Community Pharmacies, have delivered over 100,000 vaccinations, with around 2,000 of those delivered to our Care Home residents (over 90% of the total residents).
In total, we have over 60 different sites offering vaccinations across Shropshire, Telford & Wrekin during this campaign. Some of these are open every day and some are small sites or pop-ups opening on 1 or 2 days per week. We are actively encouraging our residents to book their vaccines via either the NHS App or the National Booking Service online. If you don't have internet access, then you can phone 119 to book your appointment. Several of the sites are very busy at the moment, so if you can't find a convenient appointment initially, then check back in a few days as new appointments are going live every day.
As we move into the second half of the programme, many of our sites will be offering more walk-in appointments without the need to book – you can find out the details of sites offering walk-ins at Covid-19 vaccination walk-in clinics - NHS Shropshire, Telford and Wrekin (shropshiretelfordandwrekin.nhs.uk).
Your GP may be offering COVID-19 vaccinations and most of their appointments are not bookable via the National Booking Service. If your GP is offering COVID-19 vaccinations then they will be in touch with you directly to book an appointment, a number of their clinics will also be offering the opportunity to receive a Flu vaccination at the same time – more on that later.
You may be able get the NHS flu and COVID-19 vaccines if you:
are aged 65 or over (including those who will be 65 by 31 March 2024)
have certain health conditions or a learning disability
are pregnant
live with someone who has a weakened immune system
are a carer
are a frontline health or social care worker
live in a care home
Finally, a word on Flu vaccinations. It is as important to be vaccinated against Flu as it is against COVID-19. This year, as normal, your GP will be offering you a Flu vaccination (if you're eligible) or you can also access a flu vaccination at most Community Pharmacies around the county.
Most children can get the children's flu vaccine. This includes children who were aged 2 or 3 years on 31 August 2023, school-aged children (Reception to Year 11) and children with certain health conditions. Those at school will be offered the Flu vaccine in clinics held in their school with others being offered it by their GP.
There is a lot of information online about both Flu and COVID-19 vaccinations, if you're accessing that information, please make sure that it is from a reputable source, including websites run by the NHS, Government (local and national), GP Practices or Community Pharmacies.
Please continue to come forwards for your winter vaccinations, if you do run into these viruses this winter, your symptoms are likely to be milder and recovery quicker.
Get Vaccinated. Get Winter Strong.
You can book your vaccinations by booking online at National Booking System or calling 119, attending a walk -in clinic Shropshire, Telford and Wrekin walk in clinics or by contacting your GP Practice. You can read more information about the COVID-19 Vaccination here.