Telford & Wrekin Council is joining in the celebrations of the Black History Month
This October our council is celebrating and commemorating Black History Month, which was first held in 1987 on the year of the African Jubilee and the 150th anniversary of Caribbean emancipation.
This year's chosen theme revolves around honouring and 'saluting our sisters', acknowledging and applauding the invaluable contributions that black women have made throughout the diaspora. .
There are a series of events happening in Telford and Wrekin throughout the month focusing on our history, education, art, black authors, businesses, and community service and people of all backgrounds are welcome to come along to learn, discuss and celebrate Black History Month 2023.
You can find a couple of these events below – please join in, if you can, or feel free to share them with anyone interested.
Saturday 7 October – Nigerian Independence Day
Join the celebrations at Randlay Community Centre between 4pm and 9pm. This family friendly event is dedicated to fostering awareness, preserving a rich heritage, promoting education and sharing in the cultural richness that defines Nigerian heritage.
Saturday 7 and Tuesday 10 October – 'Chevalier' at Wellington Orbit Cinema
Shown as part of Black History Month, 'Chevalier ' is a thought-provoking biopic of composer Joseph Bologne, who rose to fame in French society from humble beginnings. The illegitimate son of an African slave and a French plantation owner, Bologne rises to improbable heights in French society as a celebrated violinist-composer and fencer, complete with an ill-fated love affair and a falling out with Marie Antoinette and her court. Inspired by the incredible true story of composer Joseph Bologne, Chevalier de Saint-Georges. Booking is essential Contact - Wellington Orbit or call 01952 743377
Friday 13 October – Black History Month celebration
Join Telford Afro-Caribbean Community Initiative (ACCI) at Hadley & Leegomery Community Centre 6pm until 10pm for an evening up 'edutainment and upliftment' celebrating Black History Month and World Mental Health Day. Local artists will grace the stage, offering their talent and wisdom for this special event.  Prepare to be moved by the power of spoken word and the beauty of soulful singing as we come together to celebrate culture and well-being. This event is open to all with free admission.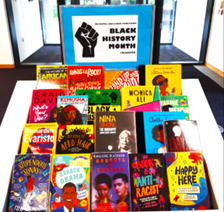 Plus...
Throughout October, The Ironbridge Gorge Museum Trust's (IGMT) 2023 temporary exhibition 'The Daily Grind' shines a spotlight on the lives of the industrial workforce of the Ironbridge Gorge from the 18th century until the early 20th century.  To celebrate Black History Month, IGMT has collaborated with Windrush Exhibition of Telford & Wrekin to incorporate the stories of individuals who arrived in the UK between 1948 and 1971, which will be told through several panels throughout the exhibition.
Also throughout October, you can check out the Black History Month display at Telford & Wrekin Southwater Library, with books suitable for a range of different ages.