Shropshire, Telford and Wrekin Healthier Together – a new website for families launches
3 April 2023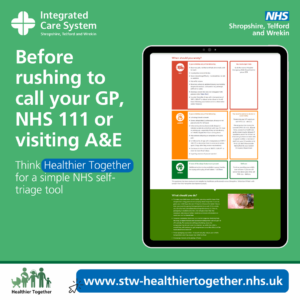 Shropshire, Telford and Wrekin Integrated Care System has launched a new website that provides consistent, accurate and trustworthy healthcare advice to parents, carers of children, young people and professionals.
Shropshire, Telford and Wrekin Healthier Together is a free website developed by healthcare professionals to help parents and carers keep their children safe and healthy.  The website provides clear advice and information for anyone in Shropshire, Telford and Wrekin who wants a reliable source of local information and is available by visiting www.stw-healthiertogether.nhs.uk.
The Healthier Together programme first originated in Wessex and its success has led to it being adapted and launched in other parts of the country. Information on the Shropshire, Telford and Wrekin website has been reviewed by local healthcare professionals and means that links and information about local services and resources have been made available.
The site aims to improve outcomes for children and their families and offers practical advice to families on numerous health conditions (such as skin rashes, mental health, fever, vomiting and diarrhoea) and on whether a child should go to nursery or school if unwell, along with advice on keeping children safe, well and in good general health.
Dr Priya George, NHS Shropshire, Telford and Wrekin Clinical Lead for Mental Health and Children and Young People has led the project from a clinical perspective, and commented: "The Shropshire, Telford and Wrekin Healthier Together website is an incredible local tool for healthcare colleagues, families and patients. It is a single resource for anyone concerned about childhood illnesses, and even has the functionality to send text messages to the patient, parent or carer - easily giving them the information they need.
"The simple 'traffic light' system helps guide parents to the right care at the right time and place for the symptoms their child is experiencing.
"With typical waiting times for health services currently higher than we would like, we hope this new website will provide parents with an alternative way of helping to identify the support they need in a quick and easy way.
"The Shropshire, Telford and Wrekin Healthier Together website will be a boost for children and their families, and will also support health services by ensuring the right people are being directed to the right services."
The easy-to-use self-triage tool gives health advice via a system of red, amber, and green signs which directs the user to the right place for the care of the child. If the website suggests the child does not need professional medical care, it may still suggest self-care for minor ailments (green), that can be provided at home or via their local pharmacy with over-the-counter treatments.
For children rated as amber, parents will be directed to primary care services, or NHS111 if outside normal GP practice opening hours.
In cases where urgent or emergency treatment could be required (red), the website will signpost the parent or carer to a nearby Accident and Emergency Department.
Page last updated 3 April 2023