Shropshire Health Visitor wins prestigious Nursing Award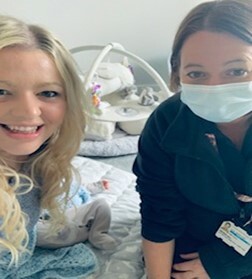 A specialist Health Visitor, supporting families following the birth of their rainbow baby (a baby born following loss) has received a Silver Chief Nursing Officer Award.
Amanda Hall, Health Visitor for Shropshire Community Health Trust (ShropCom) was nominated for the award by colleagues after developing and delivering The Rainbow Baby Health Visiting pilot – a specialist care and support service for families in Shropshire expecting a rainbow baby.
Amanda says:
"Every day I come to work and strive to bring the best care into the lives of families. I never could have imagined that this would result in receiving such a prestigious award. I feel incredibly humbled."
The Chief Nursing Officer Award recognises significant and exceptional contributions made by nurses and midwives across England and acknowledges individuals for going above and beyond within their practice.
Clair Hobbs, Director of Nursing for ShropCom says:
"We are incredibly proud of the important and innovative work Amanda is developing to support families across Shropshire.  Amanda and her pilot have received fantastic feedback from the families she has supported, and she was also recognised for her innovation at the ShropCom Star Staff Awards."
Polly- Anna, one of the parents who received support from the pilot with her rainbow baby Edward says:
"We are so lucky to be a part of this wonderful service. It has made our special journey into parenting after loss a successful and positive one, whilst still navigating our grief for our precious first baby. We will always be grateful for the amazing difference this service has made to us as a family".
Amanda previously worked as a midwife and a neonatal sister at SATH. Alongside delivering the pilot, she currently works within Shropcom  as a Family Nurse.