After a cycling accident in 2018 Niki was warned she might never regain full movement in her left shoulder. She took it as a personal challenge
Back in 2018 I was worried that I might have suffered a partial loss of function in my left arm, and I could never have imagined where I could get to now. I won't go into detail here (some of my colleagues were unfortunate enough to witness it), but a nasty cycling accident had put me in the care of SaTH's orthopaedic team, who soon realised that I would need surgery to repair my upper arm. Physiotherapy began just one week after surgery, and I nearly passed out at the first session, but I stuck with it.
I still remember my excitement some weeks later when I finally managed to pick up a piece of fruit with my left hand! The physio had warned me that I might never regain full range of motion in my shoulder, but as I am a keen dancer outside of work, I was determined to prove her wrong. I exercised three or four times a day, beginning first thing in the morning when I would try to raise my arms overhead in an effort to reach the headboard.
I am a member of Bridgnorth Running Club, and I was happy to return to running within four months of the surgery – although not without pain!
Fortunately – perhaps ironically – I had also joined Telford Triathlon Club just weeks before my accident, with the intention of training for some local sprint triathlons. This not only meant that I had a further motivation for my recovery, but I also had access to the coaching team. As soon as I had enough strength to operate brakes and gears, I was able to join their beginners' road cycling group. My first time on a bike after the accident nearly resulted in a panic attack, but the other riders were really patient with me and gradually my confidence returned.
When I finally returned to swim training, I could almost raise both arms overhead, but couldn't bring them together or rotate my arm easily, and the lack of strength on my left side made me feel lopsided. I entered the Black Country Triathlon in 2019: as it began with a 400m pool swim I could take the opportunity to use breast stroke rather than crawl (triathlon swim stroke is officially freestyle, but most opt for crawl as it is faster and doesn't tire the legs). I really enjoyed the sprint distance event – the hardest part was hauling myself out of the pool to head to the bike racks! I had more events planned for 2020, but we all know what happened to those…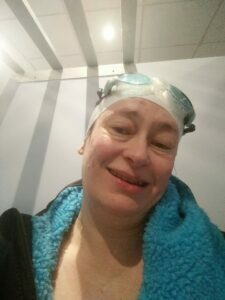 While events and group training sessions (and gym fees!) were on hold, I enlisted the help of a personal trainer who I had come to know through dance. She set me daily exercises to help me achieve my goals of improving my flexibility and core strength, and to improve my shoulder rotation still further. When the swimming pools reopened in early 2021, I was very ready to resume my swim training. I was quite uncoordinated at first (inhaling water is not recommended, particularly at a time when coughing has become socially unacceptable!) but with the help of the triathlon club's swim coaches I gradually improved. I had 2 events to aim for: Swimathon 2021, and Ludlow Sprint Triathlon.
The Swimathon is an annual event in which swimmers across Great Britain complete swims of 1.5K, 2.5K, or 5K to raise funds for Cancer Research and Marie Curie Care. Knowing that my swimming was still a work in progress, I opted for the shortest distance, although this would still be 60 lengths of the local pool. I estimated that it would take me around an hour, and that I might have to switch to breast stroke halfway when I began to tire. To my surprise, I managed to maintain a slow, relaxed front crawl throughout the distance, only stopping when I had completed the 60 lengths, and it took me just 50 minutes! My fundraising page is still open, and has raised £155 to date. Justgiving.com/fundraising/Niki-swims 
Two weeks later, it was time for only my second triathlon. Despite the swim training I felt underprepared, as I had not found time to practice the full cycling or running distances in my training – 27Km and 6.25Km respectively. However, the ride out towards places such as Stanton Lacy and Diddlebury was just glorious and I didn't mind taking my time! I was struggling a little towards the end of the run, but still finished with a smile on my face, in a total time of 2 hours and 32 minutes.
I still have further challenges that I hope to achieve before I turn 50 in 2022, so watch this space!