Multi-talented NHS communications team scoops national award
16 November 2023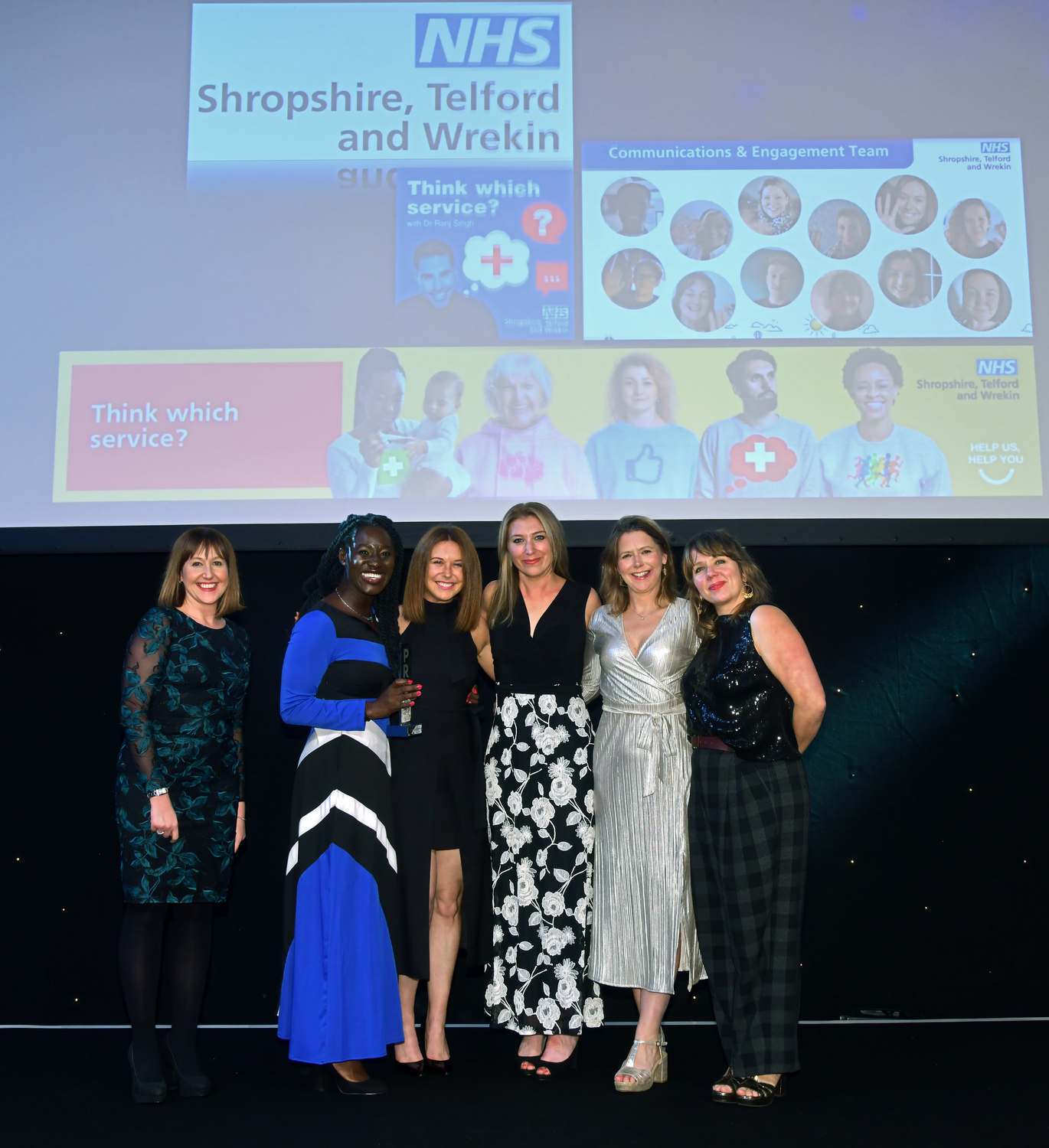 The communications and engagement team at NHS Shropshire, Telford and Wrekin (NHS STW) has received national recognition at this year's Public Relations and Communications Association (PRCA) UK awards.
Held in London on Wednesday 15 November, NHS STW's communications team won the Public Sector Value for Money Award and were highly commended for the In-House Public Sector Team of the Year, joining leading public relations and communications professionals from across the UK at the ceremony.
The winning 'Think Which Service' campaign, which was delivered for the 2022 winter period with Liverpool-based agency Influential, clinched the accolade for its extensive research, innovation, and targeted communications approach, while ensuring value for money.
With services under considerable pressure during the winter period, the campaign was successful in growing awareness of the wider range of NHS services available and changing behaviour by increasing the use of Minor Injury Units (MIUs), NHS 111 online and pharmacies. The post-campaign evaluation showed the 'Think Which Service' campaign had a positive impact, it changed behaviour and reduced ambulance handover delays.
The NHS STW team was also recognised for demonstrably rising to multiple challenges, with residents and patients at the centre of everything they do. The team were commended for consistently demonstrating excellence in communication strategies, collaboration, innovation, crisis management, as well as excelling in effectively engaging with diverse communities.
The PRCA is the world's largest professional PR and communications body, and its award ceremony is the ultimate celebration of outstanding work, creativity, and talent within the public relations and communications industry. As the most prestigious PR and communications awards in the UK, they provide a platform for public sector teams, agencies, in-house teams, and individuals to showcase their best work and gain the recognition they deserve.
Edna Boampong, Director of Communications and Engagement at NHS STW, said: "We are delighted to have been acknowledged for our commitment to delivering exceptional results while ensuring value for money for the public sector. This award highlights our team's ability to effectively communicate important messages and engage with our audience while making the most of limited resources.
"Working in NHS communications can be very demanding but incredibly rewarding. I feel very privileged to work with such hard-working and dedicated people. Knowing our work has made a difference by reducing some pressure on our services and changing behaviour is reward enough, but gaining national recognition for our hard work is an amazing feeling."
Simon Whitehouse, Chief Executive at NHS Shropshire, Telford and Wrekin, said: "An award win like this is a fantastic achievement, and very well deserved by the team and the partners involved in the campaign. To have an acclaimed communications and engagement campaign to our name is a huge boost and really showcases how our work can positively impact the lives of those we serve.
"I would like to thank everyone who played a part in making the 'Think Which Service' campaign happen, and I hope this is just the start of more successes for the team and their work for local communities."
Page last updated 16 November 2023