Local GP offers advice to beat norovirus this winter
16 January 2023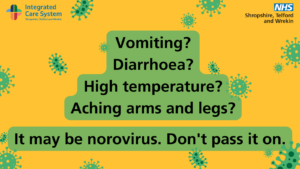 GPs across Shropshire are advising residents on how to prevent the spread of norovirus this winter.
Norovirus, commonly known as the winter vomiting bug, is highly infectious and causes vomiting and diarrhoea, but usually passes in a couple of days. It is easily transmitted through contact with infected individuals or contaminated surfaces.
Local GP Dr Stefan Waldendorf, from Linden Hall Surgery in Newport, said: "Norovirus is a common sickness bug, which is sadly on the rise this winter across the county. Although unpleasant, it usually passes in two or three days and doesn't require treatment. Symptoms include sudden onset of nausea, projectile vomiting and diarrhoea but can also include a high temperature, abdominal pain and aching limbs.
"Norovirus spreads very easily, so I like to encourage people to keep surfaces clean and wash hands regularly with soap after touching things like handrails, petrol pumps and door handles.
"We must try and prevent the spread, so please stay away from work, school and nursery until 48 hours after your last symptom. Please also avoid visiting care homes, elderly relatives and hospitals whilst you are infectious.
"We're currently getting a lot of phone calls from people with norovirus, however no medical treatment is required because there aren't any medications that will make you better.
"GP practices are very busy, and we need to keep appointments for those patients who really need them. My advice is to get plenty of rest and drink lots of water, and you'll likely be better in a couple of days.
"However, if you or your child isn't improving, becomes severely dehydrated or you see blood in your vomit, please contact NHS 111 immediately for advice."
Here's how you can reduce the spread of norovirus:
Stay at home if you are experiencing norovirus symptoms. Do not return to work or send children to school until 48 hours after symptoms have cleared. Also avoid visiting elderly or vulnerable relatives, particularly if they are in hospital or a care home.
Wash your hands frequently and thoroughly with soap and warm water. Alcohol hand gels don't kill norovirus.
When an infected person vomits, the droplets contaminate the surrounding surfaces. Clean surfaces with a two-step process of neutral detergent, such as washing up liquid, followed by diluted bleach or a bleach-based household cleaner. Use these to disinfect potentially contaminated household surfaces and commonly used objects such as toilets, taps, telephones, door handles and kitchen surfaces.
If you are ill, avoid cooking and helping prepare meals for others until 48 hours after symptoms have stopped, as norovirus can be spread through food contaminated by the virus when food is handled by symptomatic people or infected individuals.
Wash any contaminated clothing or bedding using detergent and at 60°C and, if possible, wear disposable gloves to handle contaminated items.
Page last updated 27 January 2023