Inaugural Dementia Support Information Day deemed huge success!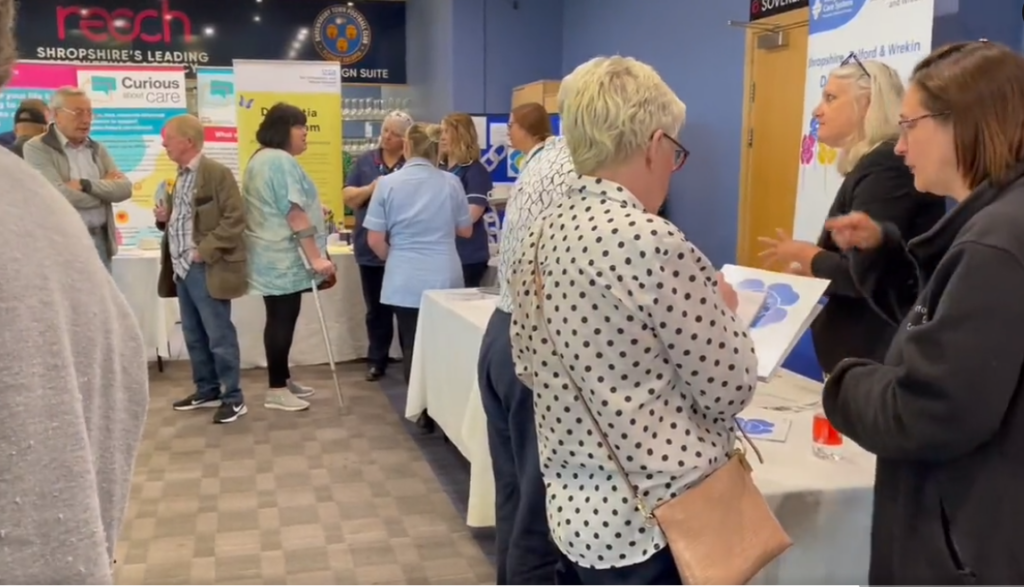 Last week was Dementia Action Week (15-21 May), and to support NHS Shropshire, Telford and Wrekin attended the inaugural Dementia Support Information Day event at the Shrewsbury Town Football Club on Thursday 18 May.
The well-attended event offered an invaluable opportunity for members of the public to find out more about dementia, as the aim was to create a free one-stop shop for information about dementia services in the county. Multiple organisations such as Radfield Home Care, Shropshire Carers, Admiral Nurses, Age UK, Alzheimer's Society were there in person to have much needed in-person conversations, offering advice and support to those living with dementia, their loved ones, and caregivers.
Helen White, Commissioning and Transformation Project Manager for NHS Shropshire, Telford and Wrekin, said: "Today has been absolutely wonderful to see so many organisations in one place, showcasing the support people affected by dementia can get in Shropshire, Telford and Wrekin. It has been very busy and just shows that these events are so important to host."
David Latcham, Dementia Link Worker for Alzheimer's Society, commented: "Today has really enabled us to highlight to people who most need it the support they can access, not only from ourselves for direct dementia support, but also to make sure they are widely connected with all other services here today. Making sure people living with or caring for loved ones with dementia have access to support, information, and advice is invaluable."
Admiral Nurses Rebekah Edwards and Kate Jones, said: "It's been a brilliant and busy day that has given us an opportunity to talk about the support available from Admiral Nurses (dementia specialist nurses), not only for those with dementia, but their loved ones too."
"What a great event! A fantastic opportunity for carers of people living with dementia to find information on services for them and the person they are caring for... and all under one roof!" remarked, Margaret Davis from Shropshire Carers.