Funding success for virtual care delivery
9 October 2023
Shropshire Council have been awarded almost £1.2m from the Government's Adult Social Care Technology Fund to support the development and delivery of virtual care, using the latest technology to support social care services for adults in the county.
Shropshire Council, in partnership with domiciliary care providers, Shropshire, Telford and Wrekin ICB, My Home Life England and TEC suppliers will use the funding to provide technology in individuals' homes, alongside a virtual care delivery service, to support CQC registered care at home.
The virtual care delivery project includes the use of digital devices which can be programmed to provide reminders, connect to family members, and can also be used as a directory for useful services.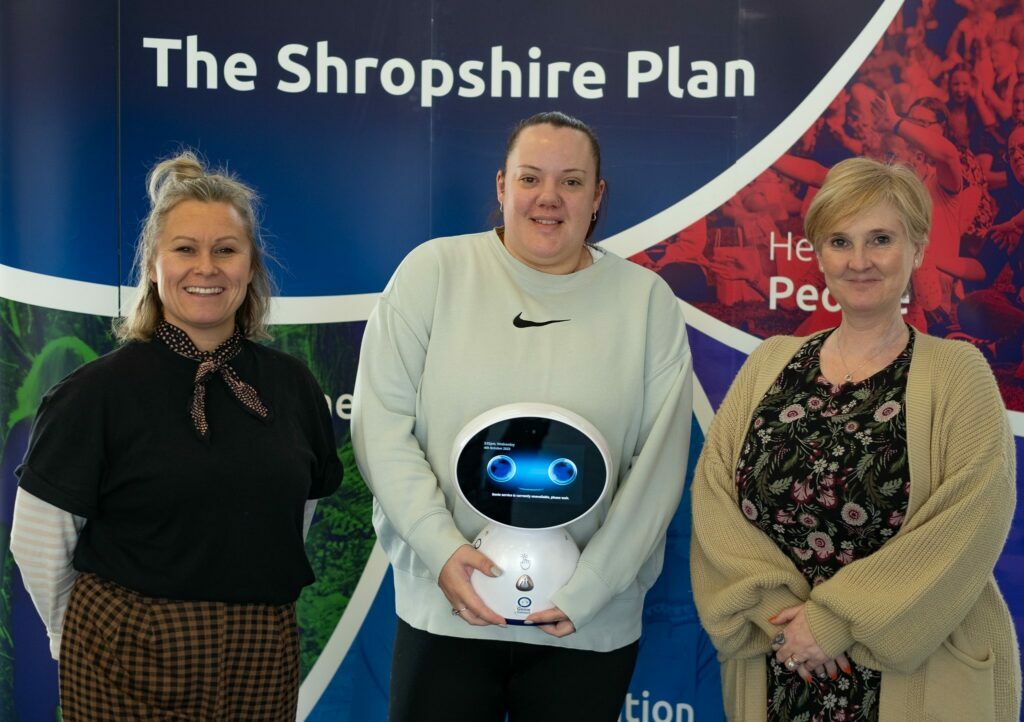 (caption – the virtual care delivery team at Shropshire Council with a Genie Connect device)
The devices can be used for video calling, allowing a virtual care delivery team to chat to a person in their own home, to find out how they are feeling, prompt them to do daily tasks and to make sure that they have everything they need.  It is also able to monitor the engagement of the user and send reports to the virtual care team.
The project has been developed from a hybrid model of care delivery, combining face to face delivery and technological support with virtual and remote care.
Since July 2023, it has been rolled out to include support for adults who have no care arrangement in place as well as people who are waiting for re-assessments due to a change in need. The approach has been developed to improve the wellbeing of people using the service, support independence in the home, help people manage their daily needs and promote self-care and resilience.
The project aims to reduce the demand for face-to-face care, whilst making sure that this continues to be used where it is needed. It will also make it much easier to provide the right kind of care in rural locations and gives another option to people who don't want to have carers in their homes.
The new funding will support the council to expand the project even further by investing in more devices and using them to deliver alternative forms of care and support to a greater number of residents. As the project develops, the council will build evidence about its effectiveness and the impact for people who take part.
Cecilia Motley, Shropshire Council's cabinet member for adult social care, public health and communities said:-
"It is fantastic news that we have secured funding to support the virtual care delivery programme to reach even more people. Shropshire are leading the way in this innovative approach to a service which is under increasing demand.  
"The feedback that we have already had from people with a virtual care device in their homes has been brilliant. They can provide reminders for mealtimes, personal care and medication and can connect people to family members at the push of a button.  
"It would simply not be possible to provide this level of interaction face-to-face and is a welcome reassurance for people who need a low level of care at home or would like to have other options. 
"Using technology to reach more people, more regularly is the perfect solution to delivering domiciliary care services across a rural county like Shropshire. By helping our residents to live independently in their own homes, we can support better health and wellbeing and prevent the need for more urgent care." 
Charlotte Hall, programme manager at Shropshire Council said:
"We are thrilled to have been awarded the Care Tech funding, enabling us to further develop and expand our virtual care offer in Shropshire.  
"This is particularly beneficial to individuals that live in rural, hard to reach areas in the county where it can be difficult to find care availability or for those that are reluctant to have carers entering their homes, but require some degree of care and support to enable them to remain independent and in their homes for longer." 
Find out more about the technology used in the virtual care delivery project, visit: The home of Genie Connect | Service Robotics Limited
Page last updated 9 October 2023