Maternal Medicine Study Day for Midwives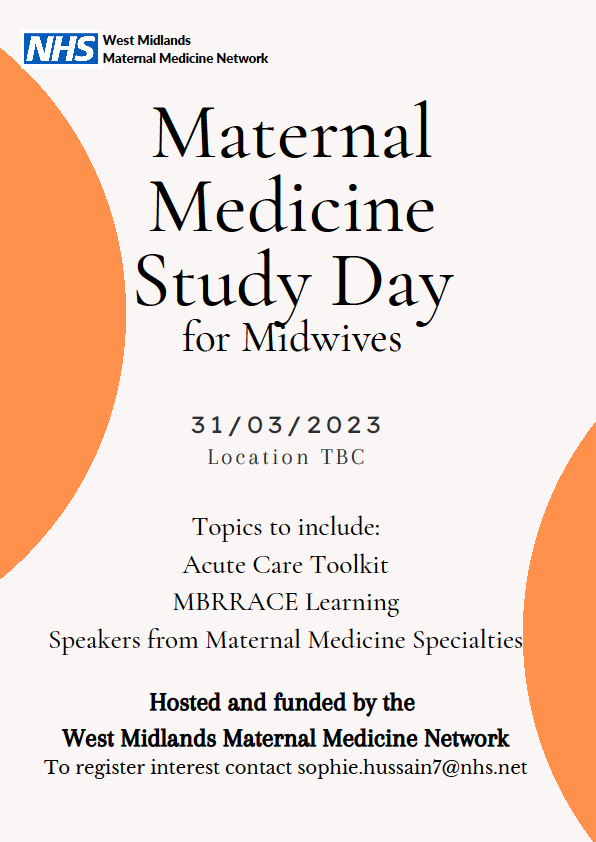 The West Midlands Maternal Medicine Network is planning a free study day Inc refreshments & lunch for midwives from across the West Midlands on 31st March 2023 (venue to be confirmed).
To Register your interest, contact: sophie.hussain7@nhs.net
ABOUT THE WEST MIDLANDS MATERNAL MEDICINE NETWORK
The West Midlands Maternal Medicine Network has been set up following the publication of the national service spec for maternal medicine networks – and is led by Birmingham Women's Hospital.  It is funded via contributions from each ICB calculated at £6 per birth.  Apart from regular MDTs for both specialist and general referrals, a key part of the MMN's role is to provide education and training to all those involved in the care of women who are, would like to be or have recently been pregnant and who have pre-existing conditions or conditions that arose during pregnancy and which affect their ability to complete a successful pregnancy.  The main list of conditions includes:
Cardiac disease
Respiratory disease
Renal disease
Haematology
Rheumatological disease
Endocrine disease
Gastrointestinal and liver disease
Neurological disease
Skin disease
It also includes acute illness where the underlying condition is not clear, such as:
Headache
Breathlessness
Chest pain
Abdominal pain
Fever/sepsis.
The purpose of education and training in this context is to increase knowledge of maternal medicine and to develop local confidence in decision making when supporting a woman with a complex presentation – and most importantly knowing when to refer the patient to another specialist.  Further study days will be arranged for multi-disciplinary groups during the coming months.