Community Diagnostic Centre opens delivering improved access to tests and scans
3 October 2023
News from our partner, The Shrewsbury and Telford Hospital NHS Trust (SaTH)
A new Community Diagnostic Centre has opened its doors improving access to non-urgent scans and tests for patients across Shropshire and Telford and Wrekin.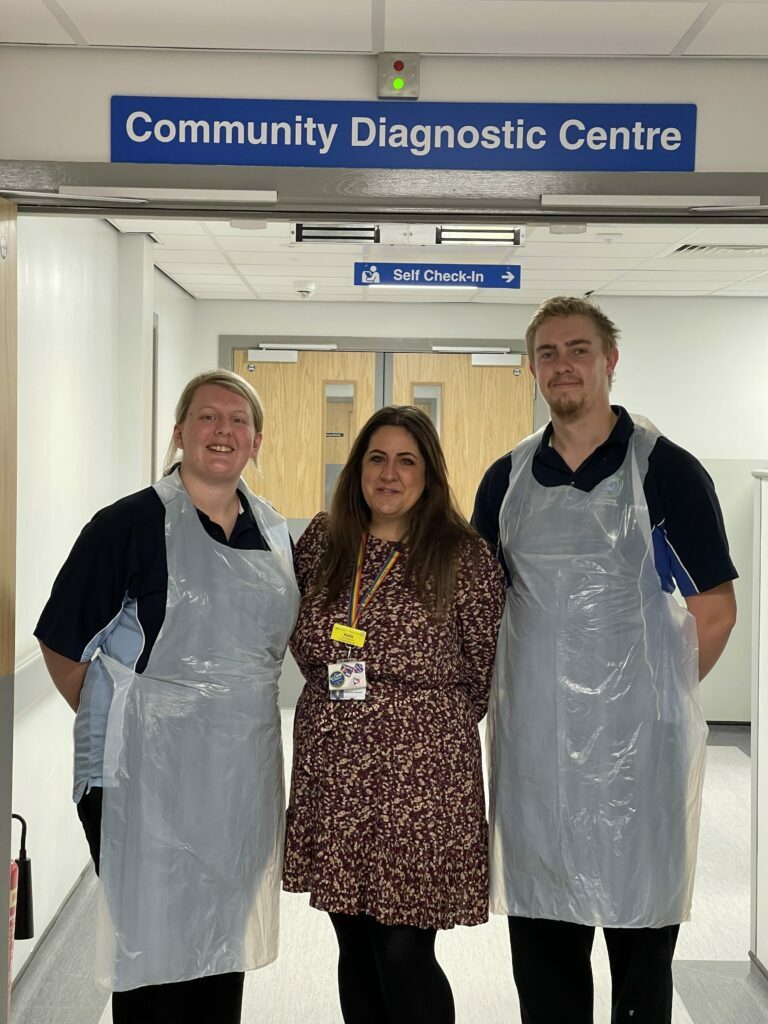 The new facility, which is located at Hollinswood House in Stafford Park 1, Telford, opened its first services yesterday, and welcomed its first patients. It means that patients who need non-urgent diagnostic tests or blood tests won't have to go to a hospital.
Services are being provided by teams from The Shrewsbury and Telford Hospital NHS Trust and will include CT, non-obstetric ultrasound, blood tests and X-rays. They are being opened in phases. MRI is expected to arrive next month and cardio-respiratory tests and dermoscopy will be introduced in January.
The ground floor is the first area to open providing pathology and radiology services (blood tests and scans). More than 100 patients had blood test appointments yesterday, with the first CT and X-rays taking place from today (Tuesday 3 October).
Sara Biffen, Acting Chief Operating Officer for The Shrewsbury and Telford Hospital NHS Trust, said: "The centre will see elective diagnostic tests delivered away from the two acute hospital sites, Princess Royal Hospital in Telford and the Royal Shrewsbury Hospital, and separately from urgent diagnostic scans.
"This will help to reduce waiting times for patients waiting for non-urgent tests.
"This is an exciting new development which will help to improve clinical outcomes and the quality of the patient's experience. I would like to thank everyone who has been involved in shaping this new facility."
Alison Bussey, Chief Nursing Officer for NHS Shropshire, Telford and Wrekin, said: "The opening of this fantastic new facility in the community is testament to the hard work of staff across the local health and care system.
"On behalf of our Integrated Care System, I want to thank everyone involved in its development and the residents who engaged right at the start of its planning and design who overwhelmingly supported the initiative and the benefits it will bring."
Dr Angus McGregor, Clinical Director of Pathology for The Shrewsbury and Telford Hospital NHS Trust, said: "The addition of the Community Diagnostic Centre will offer our patients more choice as to where to have their blood tests.
"Patients on arrival will have access to the excellent services already provided by our trained phlebotomists from the Princess Royal Hospital."
Patients can book their blood test online www.sath.nhs.uk/bloodtests or by calling the booking line on 01743 492510, Monday to Friday from 9am-4pm, excluding weekends and bank holidays.
Renal dialysis for low-risk patients will be located in the same building as the Community Diagnostic Centre, moving from Princess Royal Hospital in Telford later this year. Patients and members of the public have helped to design the service and it will be a much more spacious environment for patients to receive their care. The acute renal dialysis service will remain at Royal Shrewsbury Hospital.
Page last updated 3 October 2023