Beat the heat and stay safe this weekend as temperatures set to soar
9 June 2023
With an amber weather alert announced and temperatures set to become 'very warm' to 'hot' between Saturday and Monday across the Midlands, we're urging everyone across Shropshire, Telford and Wrekin to beat the heat and stay safe this weekend.
Hot weather can increase the risk of heart attack, stroke, lung problems and other diseases. Older people, babies and young children are also more likely to be unwell from hot weather because their bodies are less able to regulate temperature. People with underlying medical conditions can also be vulnerable to the effects of hot weather.
Dr Nick White, Chief Medical Officer at NHS Shropshire, Telford and Wrekin, said: "Much of the advice on beating the heat is common sense. Before hot weather arrives, it is a good time to think about what you can do to protect yourself, your family and friends from heat.
"If spending time outdoors, remember to take water or other hydrating drinks with you and protect yourself from the sun using at least factor 30 sunscreen during the hottest hours of the day, usually between 11am and 3pm.
"For some people, the summer heat can bring real health risks. Temperatures indoors can be higher than temperatures outdoors. That's why we're urging everyone to keep an eye on people you know who may be at risk this summer. Ask if your friends, family, or neighbours need any help keeping cool."
Sun safety tips:
To beat the heat and stay safe over the warmer months:
Spend time in the shade between 11am and 3pm.
Make sure you never burn.
Cover up with suitable clothing and sunglasses.
Take extra care with children.
Use at least factor 30 sunscreen.
Look out for others, especially older people, young children, and babies and those with underlying health conditions.
Close curtains on rooms that face the sun to keep indoor spaces cooler and remember it may be cooler outdoors than indoors,
Drink plenty of water as sugary, alcoholic, and caffeinated drinks can make you more dehydrated.
Never leave anyone in a closed, parked vehicle, especially infants, young children, or animals.
Take care and follow local safety advice if you are going into the water to cool down.
Walk in the shade, apply sunscreen, and wear a hat, if you need to go out in the heat.
Avoid physical exertion in the hottest parts of the day.
Wear light, loose fitting cotton clothes.
Make sure you take water with you if you are travelling.
Further advice for adults and children on sun safety in the UK and abroad is available on the NHS website, plus a new dedicated web-platform has been developed where the current temperature alert status over the 5-days ahead is publicly available.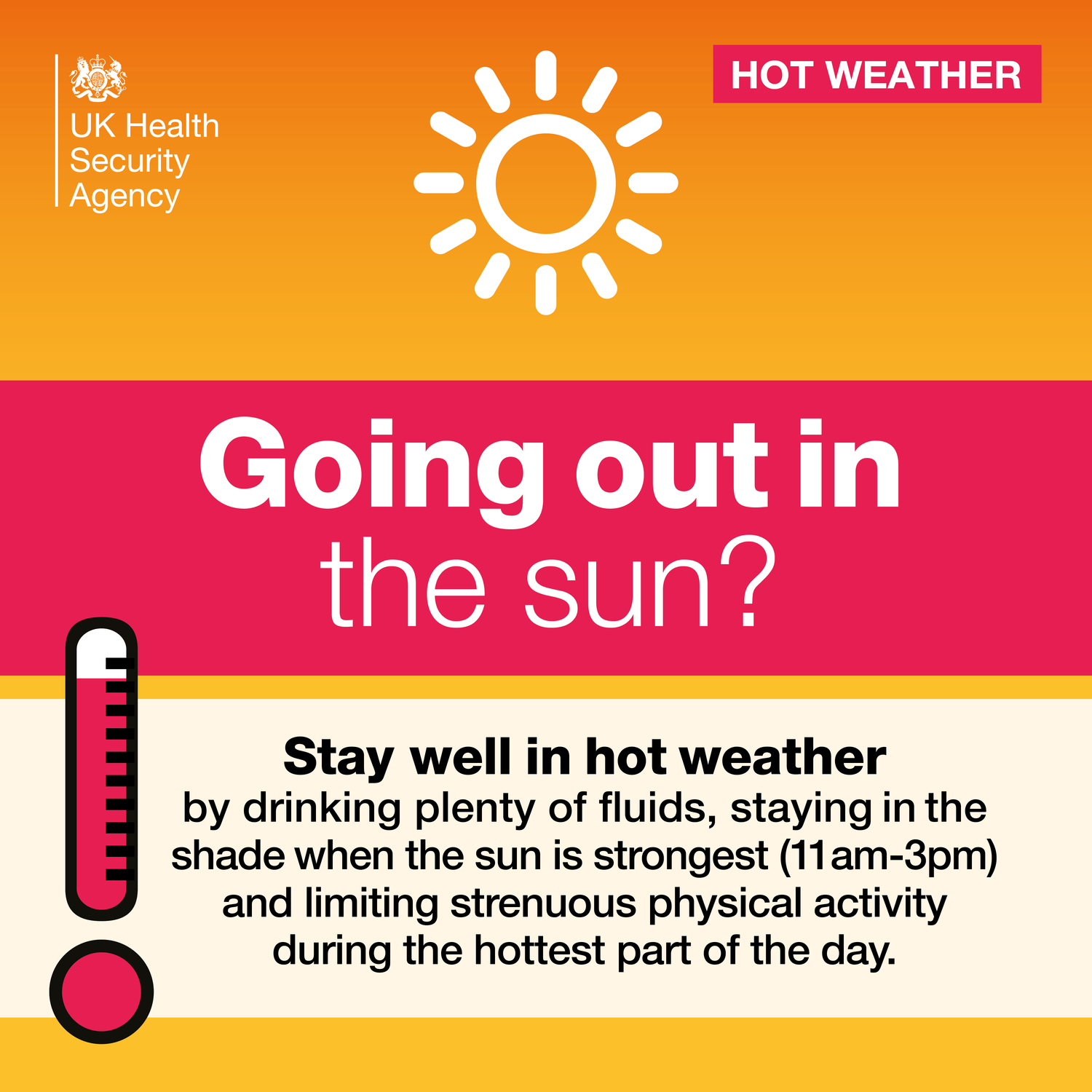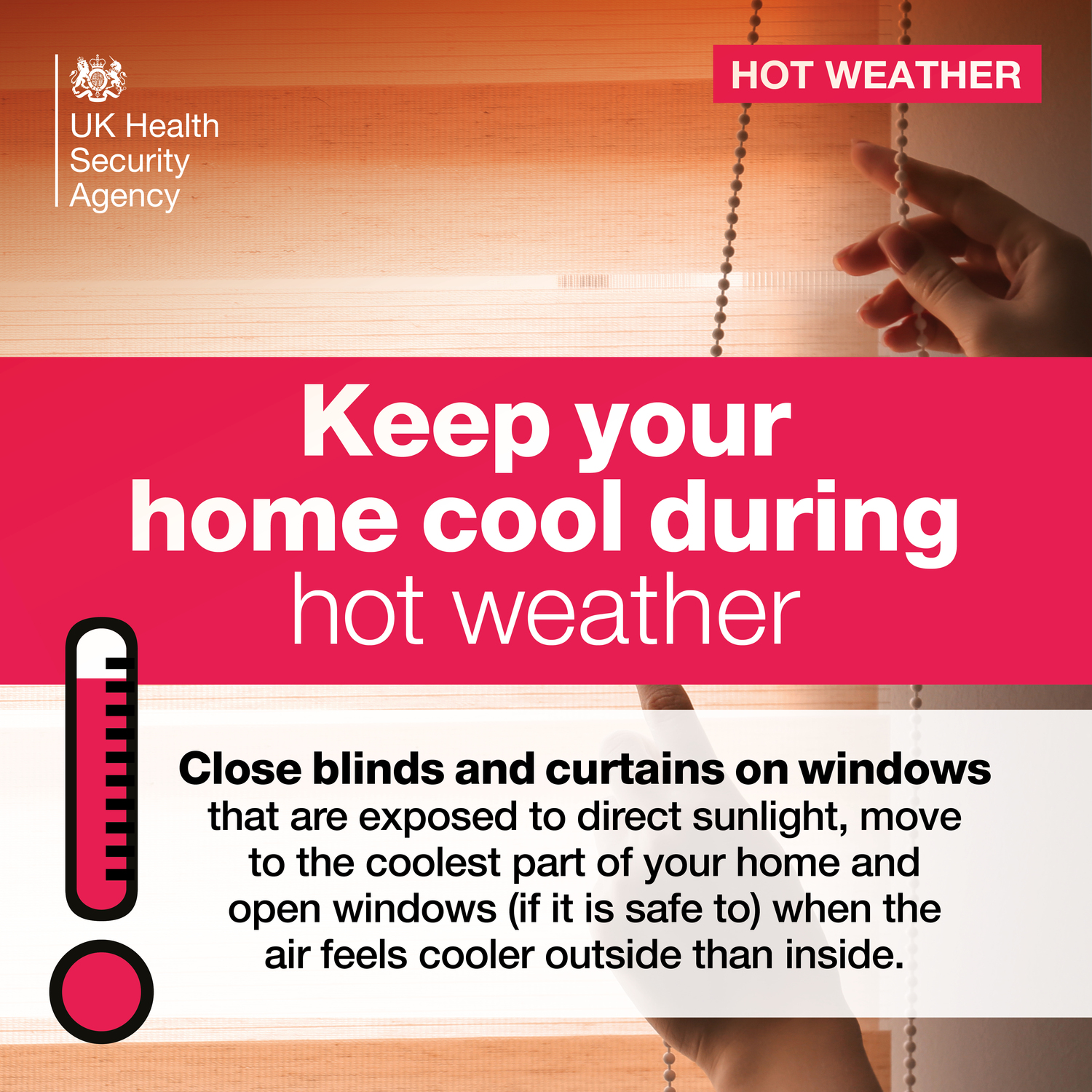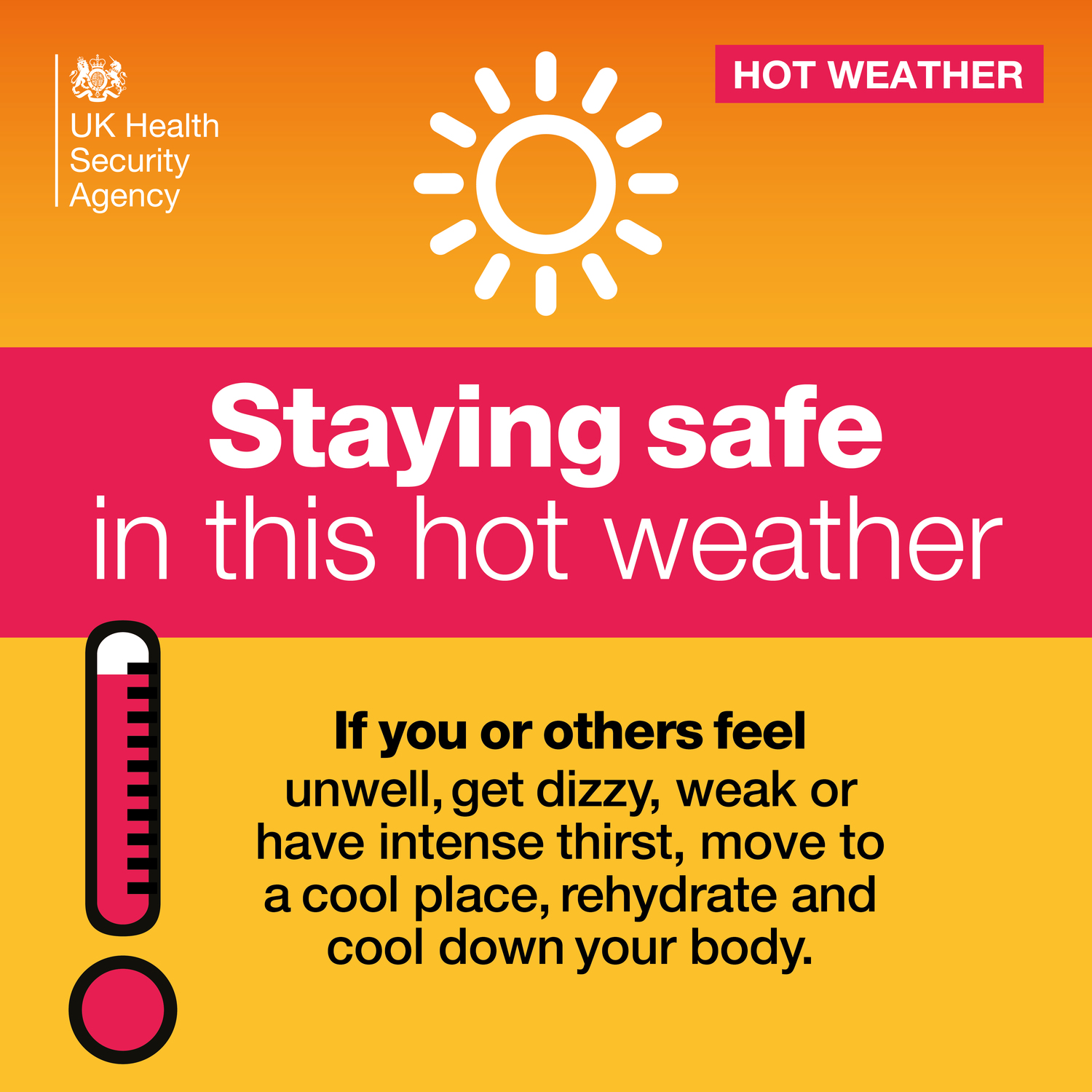 Page last updated 9 June 2023