'Think Self-Care' to keep well this winter, say healthcare leaders across Shropshire, Telford and Wrekin
10 November 2023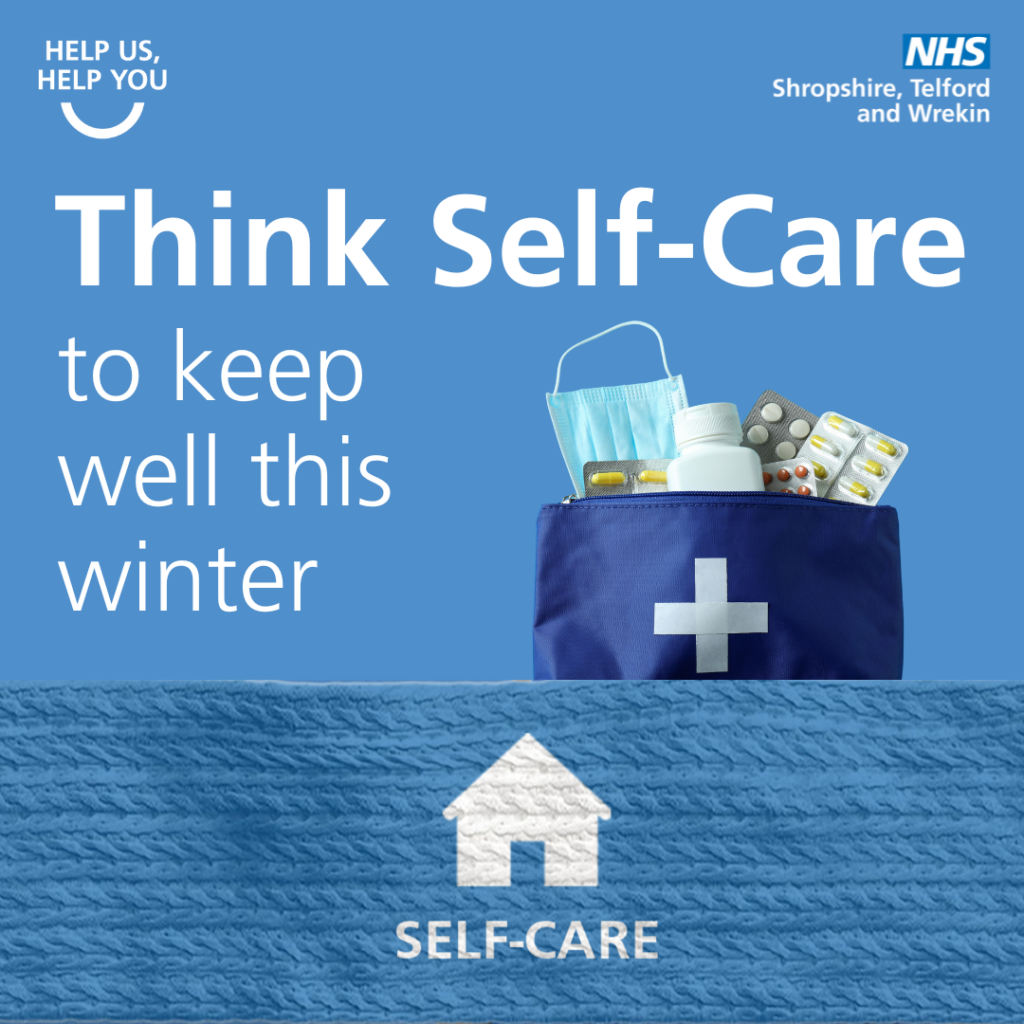 This Self-Care Week, healthcare leaders across Shropshire, Telford and Wrekin are empowering residents to "Think Self-Care" and to take charge of their health and wellbeing by making informed decisions as the dark nights and cold mornings set in. 
Self-Care Week is a national annual event that raises awareness of what we can all do to improve our physical health and mental wellbeing. This year, Self-Care Week runs from Monday 13 to Sunday 19 November 2023 and the theme is 'Mind and Body'. 
Winter is when we see spikes in colds, flu and even sickness bugs. However, you can help keep yourself and your loved ones well by taking small steps during these colder months such as keeping active, eating well, connecting with others, keeping up-to-date with your vaccinations and having a well-stocked medicine cabinet. 
Your community pharmacy team has highly skilled clinical staff offering COVID and flu vaccinations as well as providing help and advice for common conditions such as coughs, colds and flu, aches, pains, infections and fevers, and can recommend the most effective medications to safely treat symptoms at home without the need to visit a GP practice.  
Pharmacists and GPs advise that medicine cabinets should include painkillers, such as paracetamol and ibuprofen, rehydration tablets, indigestion treatments and a first aid kit containing a thermometer, plasters and bandages. These over-the-counter treatments are often much cheaper to buy than prescriptions. 
Gareth Harris, Pharmacist for the South-East Shropshire Primary Care Network (PCN) said: "We believe that self-care is not just an option, but a fundamental pillar of a healthy community. Self-Care Week is a perfect time to think about how we live our lives and how we can make small changes that will improve our health and wellbeing, and that of our family too. 
"The goal is to empower individuals to take charge of their own health journey. By having a well-stocked medicine cabinet, checking in on older or unwell neighbours, friends and family, being active and eating well, we can all work towards a healthier future. 
"If you are feeling under the weather, stay at home if you can or speak to a local pharmacist about your symptoms. They can advise the best medications to help you feel better as well as those to stock in your medicine cabinet.  
"Over the winter months, it is also important to keep warm and heat regularly used rooms in your house to 18 degrees. If you are worried about money, struggling to pay bills or buy food, you can contact your local council for advice and support. 
"By practising self-care, people can improve their quality of life and reduce the pressures on health and care services." 
Alison Bussey, Chief Nursing Officer at NHS Shropshire, Telford and Wrekin, said: "As well as looking after your physical health, it is also important to ensure your mental health gets the care and attention it needs.  
"It's ok for your mental health to change depending on how you are feeling and what is happening in your life. If you have been feeling low or showing signs of depression and/or anxiety for a prolonged period, reach out to someone you know or a local service for help. Knowing what to do and where to go for help is an important part of practising self-care." 
For more information on self-care, mental health and vaccinations in Shropshire, Telford and Wrekin, please visit: thinkwhichservice.co.uk
Page last updated 10 November 2023