Shrewsbury Town Football Club CEO gets his COVID-19 jab and encourages local people to get vaccinated
18 November 2022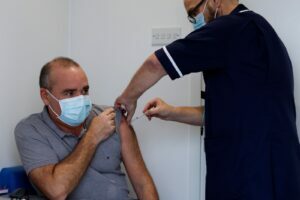 CEO of Shrewsbury Town Football Club, Brian Caldwell, is backing the NHS campaign urging people to get their Covid autumn booster ahead of winter and got his on Saturday.
Bob, the NHS mobile vaccination bus, was given permission from the Club to park at Montgomery Waters Meadow last Saturday for Shrewsbury's league one fixture against Barnsley FC and provide a pop-up vaccination clinic as part of Men's Health Week which aimed to highlight the importance of men's health and seeking the right help at the right time.
Brian who has been CEO of Shrewsbury Town Football Club since 2016, came forward on the day and had his Covid jab, commented, "I was really pleased to receive my Covid booster and top up my protection as I arrived at the stadium on Saturday. You can't beat watching a match live with your friends and family, and no one wants that ruined by Covid.
"It was also great to see so many other supporters come forward and receive their vaccine. We're always more than happy to accommodate the NHS and the Vaccination Bus as it's important we all come together as a community to ensure we're all protected this winter."
NHS Health leaders are keen for everyone who is eligible for a Covid vaccination to come forward as soon as possible to ensure that they are protected ahead of what has been predicted to be a difficult winter, when viruses circulate more and cause the greatest harm. With flu already circulating and Covid never having gone away there is a real threat of a 'twindemic' in what could be one of the toughest winters the NHS has faced.
Steve Ellis, Programme and Service Director for the Covid-19 Vaccination Service in Shropshire, Telford and Wrekin said, "We're really thankful to Shrewsbury Town for hosting Bob the Vaccination Bus once again.
"As we head into the winter months, it's more important than ever if we want to meet up in large groups whether it's to watch our local football club, watch the World Cup with friends and family in the pub or join Christmas parties, that we give ourselves the best possible defence against Covid by ensuring we are protected.
"We know that crowds are what viruses like best, whether that is the common cold, flu or Covid.
"So the best possible defence is vital. If you are eligible for a Covid or flu vaccination this autumn, make sure you are heading into the start of the World Cup and party season by boosting your immunity. Don't delay get vaccinated today."
Covid boosters and flu jabs are both available for everyone aged over 50, under-50s with serious health conditions, pregnant women, care home residents, frontline health and care staff, carers and anyone living with a person with a weakened immune system.
Free flu vaccines are also on offer for children aged two to 11.
Anyone who has not had the first three Covid vaccines can book one at any time.
COVID-19 vaccine centres are operating across Shropshire, Telford and Wrekin, including a roving mobile service which is visiting some of the areas with the lowest uptake. To book an appointment visit the National Booking System or walk-in (no appointment needed) to one of the drop-in clinics, for dates and times visit here.
For a full list of Pharmacies offering a free NHS flu vaccination please click here. Please call 119 if you need help. For more information on the flu vaccination visit www.nhs.uk/wintervaccinations.
Page last updated 18 November 2022