Plans to create a brand-new health and wellbeing centre in Highley take an important step forward
17 November 2023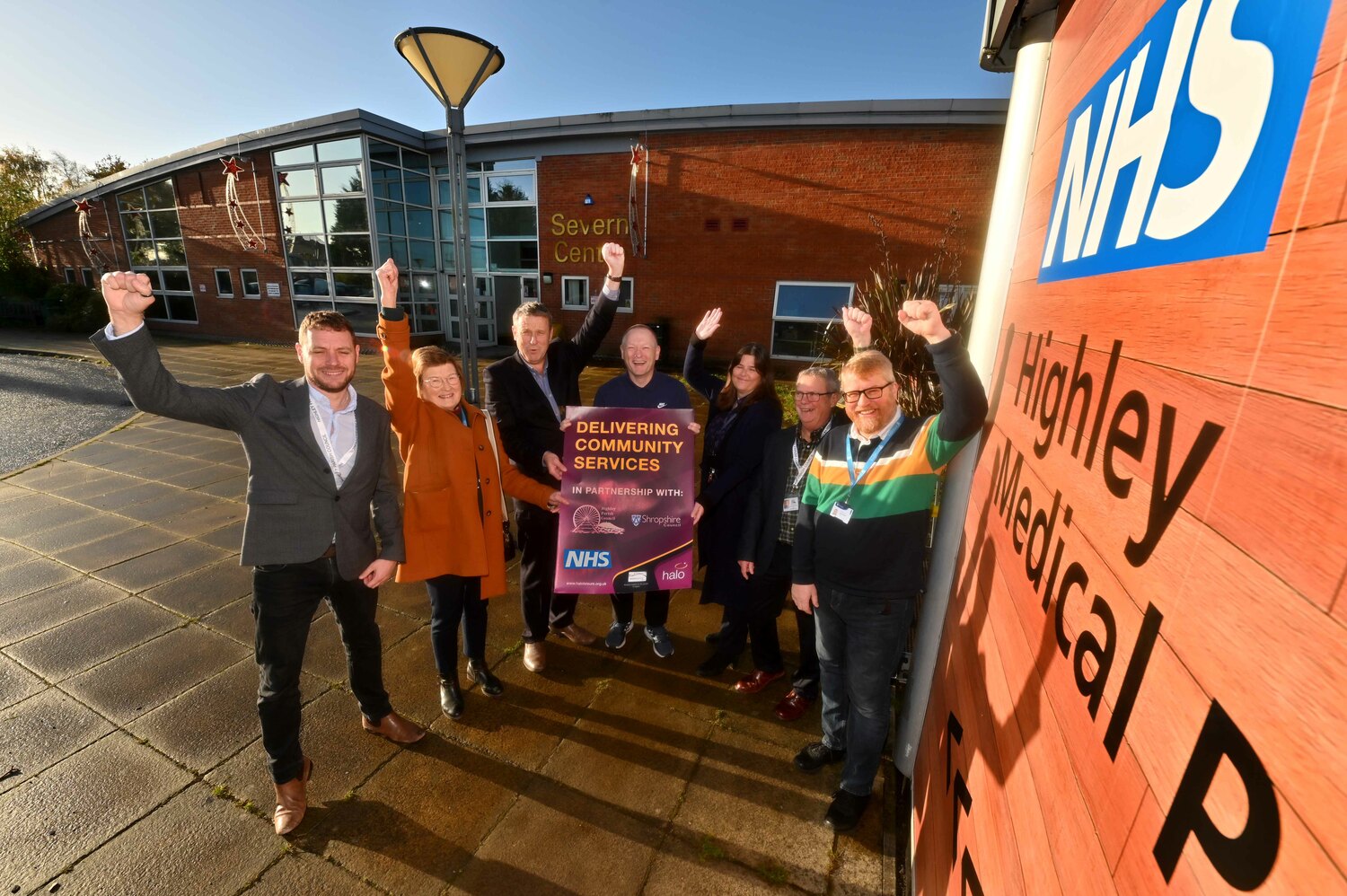 Plans to create a brand-new health and wellbeing centre at the Severn Centre in Highley have taken an important step forward, say health bosses at NHS Shropshire, Telford and Wrekin.
The development, which will see the Severn Centre reconfigured to accommodate Highley Medical Centre and additional health and care services, has received the green light from NHS Shropshire, Telford and Wrekin and the Halo Leisure Trust Board, the social enterprise and registered charity that runs the Severn Centre. The retrofit work is anticipated to begin in early 2024.
Funding for the project has been received from the UK Shared Prosperity Fund (UKSPF), the Community Infrastructure Levy (CIL), Halo Leisure, and NHS England, with direction for the project provided by an equal partnership approach.
Key partners include Shropshire Council, Highley Parish Council, Bridgnorth Medical Practice, the South-East Shropshire Primary Care Network (PCN), Halo Leisure (the Severn Centre) and NHS Shropshire, Telford and Wrekin. The project has benefitted from support across all levels of government and has been championed by Philip Dunne, MP for South Shropshire, and Cecilia Motley, Portfolio Holder for Health and Wellbeing at Shropshire Council.
The brand-new Highley Health and Wellbeing Centre will not only maintain and expand essential General Practice (GP) services in the area but will also include a broader range of health and care services provided by the local Primary Care Network (PCN), complementing the activities on offer at the Severn Centre.
Bridgnorth Medical Practice took over GP provision for Highley in July 2023 and has been operating from a temporary building on the Severn Centre car park whilst a long-term solution was secured.
Dr Jessica Harvey, South-East Shropshire PCN Clinical Director, said: "Improving GP access and patient experience is a national and local priority, and the direction of travel for General Practice is to become more integrated with wider community services, local authorities, and the voluntary and community sector.
"The Highley Health and Wellbeing Centre is a pioneering example of this, and I am delighted to see steps being taken towards its development."
Councillor Cecilia Motley, Shropshire Council's Cabinet Member for Adult Social Care, Public Health, and Communities said: "I am so pleased to see the Shropshire Plan coming to life with a focus on health and wellbeing. This partnership approach is directly working to improve services for our rural communities.
"Our Joint Strategic Needs Assessment (JSNA) told us that people in Highley are vulnerable to the cost-of-living crisis and access to services. Therefore, bringing these vital services closer to where people live is of utmost importance for the wellbeing of our communities. By working together, we can share resources and truly start to integrate, making best use of our workforce and assets."
Mark Williams, local Shropshire Councillor for Highley, said: "This new surgery will be able to offer many additional services that our previous and even current provision simply couldn't, meaning that many people who struggle with transport won't have to travel to Bridgnorth or even Telford for many of their treatments. The benefits of having this new facility here in the centre of the village are going to be huge.
"Our grateful thanks go out to all of those that have been involved in making this happen and I am so proud to have been able to be one of them."
Rt Hon Philip Dunne, MP for the Ludlow constituency which includes Highley, said: "I have been proud to play my part in helping drive this project to create real change and improvement in meeting the health needs of the local community.
"All the partners in this project came together effectively with residents in Highley and the surrounding area. Everyone has worked hard to understand their health needs and adapt approaches accordingly. It has been a great example of how all those involved in delivering health and wellbeing services across tiers of local and national bodies can work together to achieve such a transformative outcome for current and future generations."
Tom Quinn, Chair of Highley Parish Council, said: "Highley Parish Council is delighted to have been able to assist this fantastic project to ensure the health provision within the village is what our parishioners deserve."
The UK Shared Prosperity Fund (UKSPF) is a central pillar of the UK Government's 'Levelling Up' agenda and will provide £2.6 billion of funding for local investment by March 2025. The fund aims to improve pride in place and increase life chances across the UK, investing in communities and place, supporting local business, people, and skills. For more information on the UK Shared Prosperity Fund (UKSPF), please click here.
The Community Infrastructure Levy (CIL) is a charge on new developments to help fund supporting infrastructure across Shropshire. The Community Infrastructure Levy was introduced within the National CIL Regulations which are available to view at: www.legislation.gov.uk and is managed by Shropshire Council.
L-R: Tom Quinn (Highley Parish Council), Cecelia Motley (Shropshire County Councillor), Dr Steve Yell (Highley Medical Centre), Jamie Bryant (Halo Leisure), Rachel Connolly (Highley Medical Practice), Pete Vinall (Highley Parish Council), and Mark Williams (Shropshire County Councillor). 
Photo credit: Shropshire Star/Steve Leath
Page last updated 24 November 2023