Online appointments recommended for busy lifestyles this winter
5 December 2022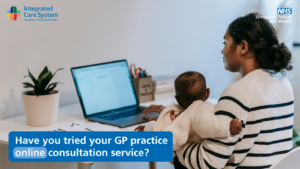 Patients across Shropshire, Telford and Wrekin are being reminded that there are a variety of appointment types available via their GP practice this winter, with online consultation being a helpful tool for those people with busy lifestyles.
Pressures on healthcare services are likely to increase over the coming months due to demand, so healthcare professionals are keen to ensure patients are aware of how they can access the right appointment for their needs in a timely manner.
A local GP said: "Recognising that some patients need a quick fix when it comes to a health query, online consultations are available in all practices throughout the county and are a quick and simple way to seek medical assistance.
"By simply filling in an online form, your practice team will be able to decide on the best treatment and will be in touch to offer advice, issue a prescription, or book you an appointment.
"You can easily get advice about specific conditions like back pain, coughs, mental health concerns and more. If you want help for your child, you can seek advice for common problems like rashes, earache, cold, flu, vomiting and diarrhoea."
Across Shropshire, Telford and Wrekin, GP practices are experiencing significant demand for their services and are working hard to ensure patients have access to the medical help they need.
On average, practices are offering 5% more appointments than before the pandemic, around 7 in 10 appointments are face-to-face with 48% taking place on the same day, and approximately 91% of patients are seen within two weeks.
"Our online consultations help to free up busy phonelines for other patients and are quick and easy.
"I would like to encourage everyone to do their bit to help their NHS during what will be an incredibly busy period. We also ask for your patience and understanding, and to treat our staff with the kindness and respect they deserve."
To access this online service, visit your GP practice website for more details. You can find your nearest GP practice by visiting the Find a GP service online.
Page last updated 12 December 2022