NHS Shropshire, Telford and Wrekin celebrates 74 years of the NHS
5 July 2022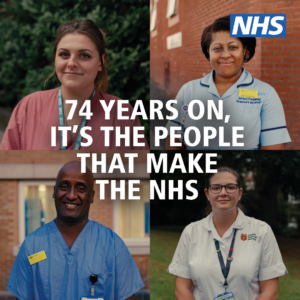 On Tuesday 5 July the NHS marks its 74th birthday. The NHS was set up in 1948 to provide everyone in the UK with healthcare based on their needs, and not on their ability to pay.
This year we are celebrating the people who work for the NHS and those who are committed to providing high standards of care for all.
Simon Whitehouse, Chief Executive of NHS Shropshire, Telford and Wrekin, said: "The NHS has come a long way since its launch in 1948. Medical advances and improvements to health have been phenomenal in that time, which is credit to our hard-working and passionate staff – in both health and care roles.
"The birthday celebrations are a perfect time to say thank you to all of our colleagues working across the NHS – whatever the role or the area.  It is these people that form the NHS – we need to do everything that we can to look after them and to treat them with the respect they deserve.
"Our goal now is to consider how we all work together to ensure the future of our NHS and other public services for generations to come.  We need to be developing and attracting the workforce of the future"
Whatever your skills, qualifications or interests, there is a career for you in the NHS. Search NHS Careers to find the role for you or click here.
Page last updated 5 July 2022