"Make sure your child is up to date with vaccinations" say health bosses
28 September 2022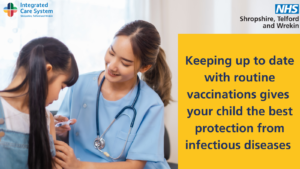 "Ahead of the winter months, make sure your child is up to date with vaccinations", say health bosses at NHS Shropshire, Telford and Wrekin.
If unsure, parents and carers are advised to check the record of immunisations within a child's red book or call their GP practice to see if vaccinations have been missed.
Children are offered a range of vaccinations before they start school to protect them from common but preventable infectious diseases, such as measles and polio.
Routine immunisations are given at ages eight weeks, 12 weeks, 16 weeks, one year, and three years and four months old (40 months).
Alison Bussey, Chief Nursing Officer at NHS Shropshire, Telford and Wrekin said: "It's so important that we protect our children as best we can from nasty infectious diseases. These include common illnesses that can cause a child to become quite unwell.
"One in ten children in England are not up to date with their vaccinations. This is a worrying statistic, and the NHS are keen to ensure all children are protected from common infectious illnesses. If your child has just started school, it's particularly important to check they are up to date with all vaccinations.
"Practice Nurses at your GP practices are trained to deliver these routine vaccinations quickly and as painlessly as possible. I would like to encourage all parents and carers of children under the age of five to check their child is fully immunised. Just contact your GP practice today."
Page last updated 28 September 2022