Local NHS team joins Shropshire Goes Green event
7 September 2022
NHS Shropshire, Telford and Wrekin will be joining in at 'Shropshire Goes Green', Shropshire Council's first sustainability festival being held later this month.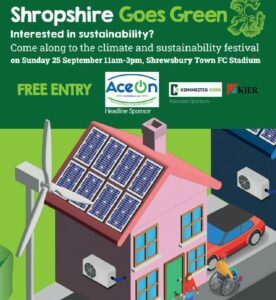 Building on the success of November 2021's 'Shropshire Goes Electric' event, which put the spotlight on sustainable transport and encouraged the use of electric vehicles, Shropshire Council is now focusing on all aspects of sustainability.
The festival is being held on Sunday 25 September at Shrewsbury Town Football Club.
The team from NHS Shropshire, Telford and Wrekin are looking forward to getting involved.
The Medicines Management Team of NHS Shropshire, Telford and Wrekin is part of the wider ICS team working collaboratively and holistically with healthcare professionals in both primary and secondary care, to support and facilitate prescribing interventions to ensure individual patients get the best possible outcomes from their medicines, through the adoption of patient-focussed approach to medicines use.
The team are actively working on the ICS Green Plan on a joined-up approach, to meet targets set out by NHSEI by reducing the environmental impact of metered dose inhalers and medicines waste to deliver significant, accelerated reductions in the total emissions by moving to lower carbon inhalers, such as dry powder inhalers (DPI's) where clinically appropriate.
The aim is to drive better value from medicines, promote cost-effective and evidence-based prescribing, ensuring the ability to invest in new innovative treatments offering the best value for the NHS.
Ian Nellins, Shropshire Council's Cabinet member for climate change, natural assets and the green economy, is looking forward to the event. Ian said: "Shropshire Goes Green already has twice as many exhibitors as our transport-only event last year, and we are still taking bookings. More than 1,300 people visited us last year, and this demonstrated there is a real hunger in people to find out more about what they can and should be doing to live more sustainably and help tackle the climate crisis.
"We've always said we wanted Shropshire Council to be at the cutting edge of the fight against climate change and this is yet another example of how the council is leading the way."
Page last updated 7 September 2022