Junior Doctor and Consultant Industrial Action Update
8 September 2023
The British Medical Association (BMA) is taking strike action involving consultants and junior doctors at a number of NHS trusts, including the Shrewsbury and Telford Hospital NHS Trust, Robert Jones and Agnes Hunt Orthopaedic Hospital and Shropshire Community Health NHS Trust, as follows: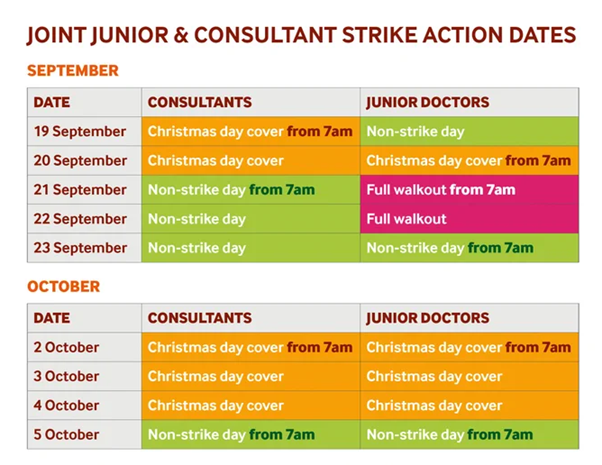 In September, for the first-time consultants and junior doctors will be taking strike action together on Wednesday 20 September.
Consultants: from 7am Tuesday 19 September to 7am Thursday 21 September
Junior doctors: from 7am Wednesday 20 September to 7am Saturday 23 September
In October, both consultants and junior doctors will then strike together again from 7am Monday, 2 October until 7am Thursday, 5 October.
The industrial action is a national dispute between the Government and Trades Unions about terms and conditions.
The safety of our patients and staff remains our top priority. We are working together across our partnership in Shropshire, Telford and Wrekin to ensure we have robust plans in place to ensure the safety and welfare of our patients and our colleagues during the upcoming strike action.
Dr Nick White, Chief Medical Officer for NHS Shropshire, Telford and Wrekin, said: "As is the case for all parts of the country our consultants and junior doctors are a significant part of our medical workforce and as such the planned strike action will have a significant impact.
"We are committed to ensuring that emergency services remain in place, with staffing levels in line with that in place on 'Christmas Day' levels of care. This will ensure that emergency care would continue to be provided, but elective or non-emergency work may be significantly impacted.
"During the strike period, it will be even more important people choose services wisely so that care is available to patients who need it most. This includes using 111 online as the first port of call for health needs and continuing to only use 999 if it is a life-threatening emergency.
"GP practices will continue to be open during the strike period, along with minor injury units (in Whitchurch, Ludlow, Bridgnorth and Oswestry), and local pharmacists can also help and are experts in medicines for minor health concerns."
Appointments - if you have an appointment at one of our hospitals, please attend unless you hear from us.
Please don't call to check if your appointment is going ahead. We will be in touch with you directly if we need to rearrange your appointment.
Our emergency departments (ED) - if you have a life-threatening emergency, our ED remains open 24 hours a day.
Please be aware that our hospitals, like the wider NHS and local health and care system, are really busy. If you have an urgent medical problem that isn't an emergency and aren't sure what to do, refer to NHS 111 online first or call 111 – they will provide medical advice and direct you to the best care for your needs.
If you have a medical problem that is not critical or life threatening, please visit your local pharmacy, GP for advice or you can go to our minor injury units in Bridgnorth, Ludlow, Oswestry or Whitchurch.
Further information about the industrial action published nationally can be found here.
Page last updated 18 September 2023