Join us in celebrating Black History Month this October
20 September 2022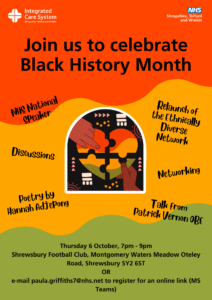 To proudly mark Black History Month, you are cordially invited to attend the relaunch of the Primary Care Ethnically Diverse Network.
This will be a chance to celebrate our dedicated and diverse workforce, as well as acknowledging the continued achievements and contributions of black people in the UK and around the world.
The event, which will be hosted by NHS Shropshire, Telford and Wrekin, will take place on Thursday 6 October, 7pm at Shrewsbury Town Football Club – and is open to all.
Speaking at the event will be Patrick Vernon OBE who will be sharing his fascinating insight and experience as an Independent Non-Executive Director and Vice Chair of Birmingham and Solihull Integrated Care System (ICS), where he leads on inequalities. Patrick is also an Independent Adviser on Equality, Diversity and Inclusion for the Crown Prosecution Service.
Storyteller, Hannah Adjepong, will also be sharing a number of poems from her collection with those in attendance. Hannah was born in a small village in Ghana and has worked in the UK as a nurse and midwife for over 20 years. She is a published writer and was originally inspired to start placing her thoughts on paper whilst working in a nursing home.
Dr Priya George, Clinical Lead for Equality, Diversity and Inclusion at NHS Shropshire, Telford and Wrekin, said: "I am really looking forward to this unique event. Not only will it be an opportunity to bring colleagues together from across the county, it will also be a chance to talk about black history, representation and how we can celebrate all year round.
"Alongside listening to our two renowned speakers, we will also take the opportunity to officially relaunch our Ethnically Diverse Network within Primary Care – a group created to bring people together and celebrate our diversity.
"All colleagues from across the Integrated Care System, both NHS and local authority, are most welcome."
For more information, please contact Paula Griffiths at: paula.griffiths7@nhs.net
Page last updated 21 September 2022