Integrated Care System launches innovative preceptorship programme
12 October 2022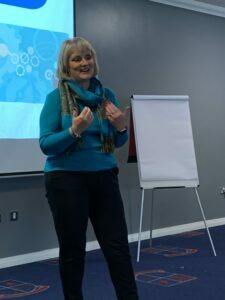 Shropshire, Telford and Wrekin Integrated Care System (ICS) has launched a new preceptorship programme this month, to support newly qualified nurses, Allied Health Professionals and midwives in their early career journey.
There will be a series of events hosted for new colleagues over the coming months, the first of which took place this week.
Preceptorship is a period of structured transition to guide and support all newly qualified practitioners from student to professional; as they embark on their new career.
The process aims to develop newly qualified colleagues' confidence and competence as independent professionals, and refine their skills, values and behaviours.
A working group of Preceptorship Leads representing Nursing and Allied Health Professionals across all organisations within the Shropshire, Telford and Wrekin ICS have collaborated to develop a system-wide preceptorship offer, which the ICS will host.
For the first event, attendees enjoyed a packed agenda with workshops and personal development sessions on offer. Important topics were covered, such as the purpose of preceptorship, roles and responsibilities, resilience, and the importance of recognising feelings and emotions.
Alison Bussey, Chief Nursing Officer for NHS Shropshire, Telford and Wrekin opened the programme and welcomed new colleagues to the local NHS. She also shared her own career journey and thoughts about professional leadership.
Alison Lester, Transformation Manager Focus on Nursing at NHS Shropshire, Telford and Wrekin said: "The beginning of a newly qualified practitioner's career can be a challenging time. As people's initial experiences can shape how they develop in their career, we want to ensure the best possible start for newly qualified nurses, nursing associates, midwives and allied health professionals.
"For this to happen, a quality preceptorship programme is essential. Having expert support and learning from best practice gives a foundation for lifelong learning and allows them to provide effective patient-centred care confidently."
Sarah Yewbrey, Practice Education Facilitator from Shropshire Community Health Trust explained "The first cohort began on our new preceptorship programme this month, and I'm delighted to see new colleagues join us from across the ICS organisations. We spent a useful day welcoming them into the Integrated Care System and beginning the process of supporting them on their career journeys. We have also held two development workshops for preceptors, who provide direct, individualised support to their preceptee(s)"
If you are interested in the programme, please contact your Preceptorship Lead for full details.
Page last updated 12 October 2022