Health and Social Care Careers Event
7 June 2022
Wednesday 22 June 2022 9.30am – 6pm The West Stand, AFC Telford Utd, Watling Street, Wellington, TF1 2NJ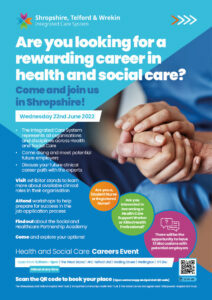 The Shropshire, Telford and Wrekin Integrated Care System (ICS) is hosting a Health and Social Care Careers Day on Wednesday 22 June in Wellington, to showcase the range of careers available within the sector.
People from across Shropshire are being encouraged to come along any time between 9.30am and 6pm to find out more about different career pathways and options.
Employers from the NHS, social care sector and Allied Health Professionals will be present at the event and holding informal conversations with people considering a career in healthcare.
Alison Lester, Project Manager for the ICS People Team, said: "I'm delighted to be hosting the event for the people of Shropshire. Working in the health and care sector is truly rewarding, and we want to give people the opportunity to find out more about joining us.
"This is an example of great collaboration between the NHS, universities, training providers and social care employers, and I'm pleased so many organisations will be available on the day to speak to people about their career aspirations.
"This will be a great opportunity for providers to collaborate and allow potential future employees to network and plan out their future career path."
The event will be open to student nurses who are preparing to take on their first role as a Registered Nurse, nurses who are looking at careers available within Shropshire and individuals who would like to explore opportunities as Allied Health Professionals or Healthcare Support Workers.
There will be an exhibition, where interested candidates can find out about prospective employers and see what is on offer.  A rolling programme of workshops will take place throughout the day to support individuals achieve success in the job application process.  These sessions will help people refine their CV and interview skills.
Please see the flyer for further details and book your place here.
Page last updated 7 June 2022