Eye Care Services
Earlier this year, the health and care system in Shropshire, Telford and Wrekin embarked on a programme of work to transform local eye care services.
The aim is to provide effective eye care services that are more joined up so that adults and children get the best care possible when and where they need it.
We ran several engagement activities that enabled us to capture valuable insight, including a public survey, community outreach and a series of workshops.
While most people told us that they had had a good experience of our services, we also heard about areas that could be improved.
Thank you to everyone who took the time to talk to us and share their views and experiences. All this rich insight will help us design a model that best meets the needs and wishes of our population.
The programme team is now using all the learning gathered to design the future model and will be seeking further feedback on any proposed changes later this year.
Meet some of the programme team: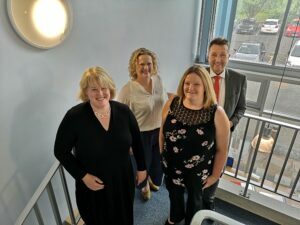 From left to right: Claire Roberts (clinical lead); Marie-Claire Wigley; Lucy Jones; and Barrie Reis-Seymour