Do you know about the Community Pharmacist Consultation Service?
17 April 2023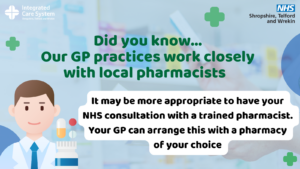 Our GP practices work closely with local pharmacists to support you with certain minor health conditions. It may be more appropriate to have your NHS consultation with a pharmacist instead of at the GP practice.
You can choose to have your consultation with any pharmacy convenient to you, where you will have a confidential pre-booked consultation at a time that suits you.
Pharmacists are highly skilled healthcare professionals who have trained in medicines and can give health advice to help you manage your condition. If treatment for symptoms is required, the pharmacist may suggest an over-the-counter medicine.
If the pharmacist thinks you need to see another healthcare professional, such as a GP, they will help arrange it. With your consent, the pharmacist will also ensure your medical record is updated with the outcome of your consultation.
To find out more about how pharmacies can help, please click here.
To find a pharmacy near you, please click here.
Page last updated 17 April 2023