Diabetes UK local events
22 September 2022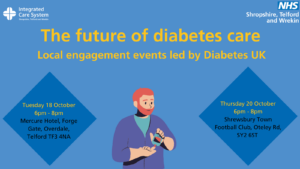 Diabetes UK are holding two local diabetes engagement events called 'Shaping the future of diabetes care'.
All patients are invited to attend, as well as health professionals.
Telford event   Tuesday 18 October 6-8pm at Mercure Hotel
Shrewsbury event  Thursday 20 October 6-8pm at Shrewsbury Town Football Club 
This is a great opportunity for you to find out what services are available for people with diabetes in Shropshire; to ask local health care professionals and commissioners questions on your diabetes care, and to find out what the future holds.
To register for the Telford event please click here
To register for the Shrewsbury event please click here 
Page last updated 22 September 2022