County Cancer Champions Launch
23 August 2022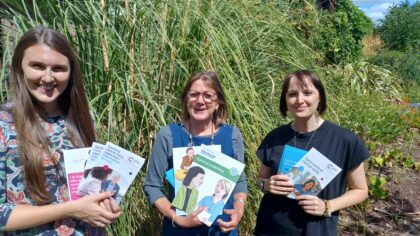 A national programme to encourage more people to take up cancer screening appointments is being rolled out across the county – thanks to a successful bid for national funds and a new partnership between local health organisations.
Nationally the NHS as part of its commitment to reducing health inequalities has launched a programme of work known as Core20+5. This reflects the national evidence that those living in the 20 % most deprived areas are more likely to suffer poor health outcomes. The 5 refers to 5 key clinical areas of focus for the NHS which includes the ambition that by 2028 75% of people with cancer will be diagnosed at an early stage (stage one or two).
As part of the local commitment to achieve this, NHS Shropshire, Telford and Wrekin has partnered with regional charities Lingen Davies Cancer Fund and the community action group Qube in Oswestry, as well as Shropshire LA, and Telford and Wrekin Council.
The two charities are now leading on the delivery of the project and have recruited two health engagement professionals to create a movement of cancer champions.  Michelle Moore and Holly Corrigan will be working initially within communities least likely to access health services currently on offer.
Cancer Research UK statistics currently state that one in two people in the UK will get cancer in their lifetime. Cancer Champions are people who simply encourage others in their communities to take up cancer screening invitations, and help people better understand the signs and symptoms of cancer – thereby improving rates of early cancer diagnosis
Miranda Ashwell, LiveLife Cancer Awareness Lead for Lingen Davies, said the project will focus on those areas of the community who are least likely to take up cancer screening opportunities or report possible signs or symptoms.
"Lingen Davies Cancer Fund will deliver this project in Telford & Wrekin, and we have partnered with Qube in Oswestry with who will be working throughout the rest of Shropshire.
"We know that the early diagnosis of cancer is crucial in improving survival rates. Spotting cancer early saves lives. Together we want to make a difference within those areas that we know are least likely to accept cancer screening invitations or have little awareness about how to access support and services. Groups include those where English is not their first language, members of the homeless community, ethnic minorities, and more.
"Shropshire is a diverse community and the intention of this project to empower people to help others to recognise what they can do to reduce the possible impact of cancer of their lives, and to help save lives. We will be recruiting Cancer Champions throughout the community to help spread the word further in their own networks," she added.
Laurel Roberts, CEO of Qube, said: "The role of a Champion is flexible so anyone can commit as much or as little time as they wish. For some this might just be learning more about cancer screening programmes and signs and symptoms of cancer, so they can share this information in everyday conversations with their family, friends, colleagues, and community members.
"Others may wish to get involved with social media, community events, video-making or other creative activities. Cancer Champions will receive training, support, and resources to undertake this role – learning, sharing, listening, and talking about cancer."
Tracey Jones, Deputy Director of Partnerships and Place for NHS Shropshire, Telford and Wrekin, said: "More and more people are being successfully treated and living beyond cancer. The earlier we can spot cancer, the greater the chance of successful treatment.
"To increase the numbers of people surviving cancer, we need people to report early signs and symptoms, and take up their screening invitations. Research shows the more we talk about cancer, the more we break down stigma, shame, and myths about it. That is why a conversation with friends or family could be life -changing, and that is why we have chosen to focus on cancer – we can make a difference throughout our communities," she added.
For more information about becoming a Cancer Champion and what the role involves contact Michelle Moore michelle.moore@lingendavies.co.uk for the Telford area or Holly Corrigan h.corrigan@qube-oca.org.uk for Shropshire queries.
Lingen Davies Cancer Fund is the area's primary cancer charity working to enhance the lives of those impacted by it throughout Shropshire, Telford, and Mid Wales. Qube is a community action group based in Oswestry that enhances the quality of life for those living primarily in North Shropshire and Powys.
Page last updated 23 August 2022