Charlton Medical Centre receives Green Impact Silver Award
23 November 2022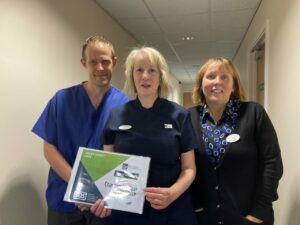 Charlton Medical Centre, in Oakengates, Telford, is delighted to have received a Green Impact award.
Green Impact for Health is a learning and awards programme designed to provide practical advice and tips to General Practices that want to improve their sustainability.
Practice Nurse Vivien James was passionate about taking action on climate change and so volunteered to be the Green Champion for the practice. After explaining the programme, the team agreed to work together to see what positive changes they could make as a practice towards delivering a Net Zero NHS.
Practice Manager Carrie Anne Wood said: "We registered our practice to take part in the Green Impact programme and were given access to a bespoke Green Impact Toolkit. The toolkit breaks down the complex world of sustainability into simple, manageable actions.
"From topping up the bird feeding station to taking turns with the plastic recycling, there was something for everyone to take part in. To be awarded the Silver Award for our efforts has been a lovely surprise and we are proud to have achieved this as a practice team.
"And we're not done yet. We have some smaller projects to tackle, but we have some ambitious ones too. We will continue to extend our wildlife garden as this is enjoyed by patients too. We plan to install another set of bicycle racks for staff and patients to use as this further encourages physical activity. But our big project if we can get the funds together, is to switch all our lighting to LED. This is a big project but one we are keen to sink our teeth into as soon as possible.
"Vivien, our Green Champion, planned the activities which the whole practice team then took part in. Some examples include planning our practice wildlife garden and to switch our paper supplier to a more sustainable source. We recorded our progress on our Toolkit along with the required evidence, and this was then submitted for auditing. When we started the programme, we were only aiming to achieve the Bronze Award. But as we got more involved, we found we enjoyed the project and the benefits it brought, such as team building and fun."
GP partner Dr Wood said: "We have a great team, and it is wonderful to see everyone working together on the Green Impact programme. I wasn't too sure about it at first, but the Fairtrade bananas go down a treat in our coffee break. I may even follow the example set by some of the team who have cycled to work and regularly use the new bicycle racks. A great project and I would encourage other practices to take part."
Practice that wish to take part can find more information on the Green Impact website: https://greenimpact.nus.org.uk/
Page last updated 23 November 2022