Brand-new online prescription service launched
30 March 2023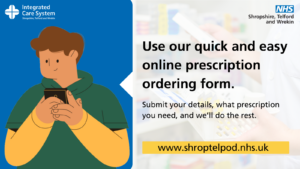 A brand-new online prescription ordering service has been launched for the county improving access for patients, say NHS Shropshire, Telford and Wrekin.
In addition to the current phone service provided by the Prescription Ordering Direct (POD) team, an online prescription ordering form is now available so patients can place orders quickly and easily online.
Patients who regularly submit repeat prescription requests are being encouraged to visit www.shroptelpod.nhs.uk where they can simply complete the online form and submit a repeat medication order.
Stephanie Munro, POD Team Manager at NHS Shropshire, Telford and Wrekin, said: "We are always looking to improve our services for patients, so the launch of the new online form is a great addition for both our patients and the POD team.
"We've been working on this new service for a while, having listened to patient feedback and requests. We want to continue to offer the excellent service that our patients have become accustomed to, and the new online service will allow us to process prescription requests more efficiently and safely.
"The new online form is a quick and easy way for patients to order online with just the click of a button. The site can be accessed with a smart phone, tablet or personal computer.
"The POD service is operated by NHS Shropshire, Telford and Wrekin, and has dedicated call handlers who are trained to take repeat prescription requests. The team are still available for those patients who may not have access to the internet or would prefer to use our phone system."
Before contacting the POD team, patients are advised to check medication cupboards before ordering and ensure that orders are placed only when they have seven days of medication left. Likewise, if patients have a build-up or have stopped taking any medication, they should also let the POD team know.
You can continue to contact the POD team by phone on 03333 583 509. Lines are open 8am to 5pm, Monday to Friday, excluding bank holidays. The new online form can be accessed at: www.shroptelpod.nhs.uk.
For more information on the service, please visit the NHS Shropshire, Telford and Wrekin website.
Page last updated 30 March 2023