Advice offered to reduce the stress of weaning
16 February 2023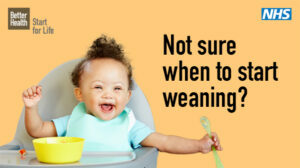 "Weaning needn't be a stressful time for parents, as there's lots of support available" is part of the reassuring message being shared by Health Visitors across Shropshire, Telford and Wrekin.
Local healthcare professionals are offering advice to parents on introducing solid food to their baby's diet. A national NHS campaign has re-launched this week to reassure parents and provide advice on what is a significant milestone in their baby's life.
Start for Life is a website that offers parents support and advice on introducing solid foods to their baby, during what can be a confusing time. The website offers recipes, advice and tips on how to wean babies, as well as reassurance on normal eating behaviours for small babies.
Introducing babies to solid foods, also referred to as weaning or complementary feeding, starts around the age of six months old. Babies should be introduced to a varied diet, alongside their usual breast milk or first infant formula. The NHS advises that most babies should not start solid foods until they are around six months old. This gives them time to develop properly so they can cope with solid foods.
Michelle Ostrowski, Health Visitor Team Lead from Shropshire Community Health NHS Trust, said: "Weaning needn't be a stressful time for parents; it's about exploring food together and can be great fun. To start with, your baby only needs a small amount of solid food, once a day, at a time that suits you both.
"You can start weaning with single vegetables and fruits – try blended, mashed, or soft, cooked sticks of parsnip, broccoli, potato, carrot, apple or pear. Make sure any cooked food has cooled right down before offering it to your baby.
"Your Health Visitor or GP can answer any questions or concerns, especially if you're worried about a possible allergic reaction or digestion issues."
Dr Priya George, local GP and Clinical Lead for Children and Young People for NHS Shropshire, Telford and Wrekin, said: "Children's food preferences and eating habits are formed early in life, with consequences for a range of health and development outcomes in later life.
"Introducing solid food to your baby's diet can be a worrying and stressful time for some parents. It seems a big change, going from breastfeeding or bottle feeding to having to prepare solid foods too.
"The Start for Life national campaign helps encourage parents to wean when their baby is at the age of six months. It's really important that both health professionals and parents try to form healthy eating habits and food preferences early. My advice is to start small and easy and use the tips and recipes on the website."
To access further NHS advice on weaning your baby, click here. To contact the Health Visitor Team for advice and support call 0333 358 3654.
Page last updated 6 March 2023