A nurse led service developed during the Covid-19 pandemic achieves gold standard for quality.
22 August 2022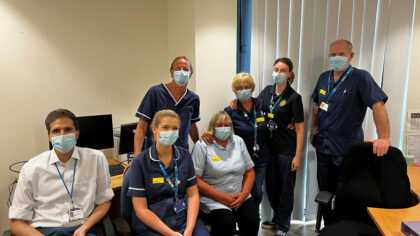 The Physical Health Pathway is a nurse led service that developed six physical health clinics during the Covid-19 pandemic, extending its service provision to support secondary mental health services across Shropshire, Telford and Wrekin.
The pathway team has been awarded a Gold Quality Award, presented virtually by Midlands Partnership NHS Foundation Trust (MPFT) Chief Executive, Neil Carr, after successfully demonstrating its work to continuously improve the service offer and quality within their area.
The service offers patients who have a diagnosis of Bipolar, Schizophrenia and non-organic psychosis who are prescribed antipsychotic or mood stabilising medication the opportunity to discuss their physical health care needs. Patients can be referred to six clinics on healthy eating, weight management, increasing physical activity, emotional wellbeing, life in pregnancy, family lifestyle and smoking cessation.
The clinics also provide an educational environment for mental health colleagues and students to obtain new skills in physical health care.
The service has received positive feedback from partners and patients. Dr Priya George, Market Drayton GP Practice said: "This partnership between primary and secondary mental health services is ensuring we are better able to meet both the physical and mental health needs of this vulnerable group of patients. It is enabling us to make a real difference to people's lives."
A patient said: "Very proactive, it's not just the role being good, it's the way it's done…I've never felt so supported by mental health services."
The pathway team stated: "We are very proud to have achieved the gold quality award, which acknowledges the great achievements of those who contributed towards the development of the physical health pathway.
"To successfully develop a new service during the Covid-19 pandemic with no budget, no permanent staff and very little resource, is remarkable. The support from senior management and contribution from pathway leads and colleagues ensured that a very unique service was created, led by nurses to improve the health and wellbeing of our service users."
The Physical Health Pathway hopes to grow its service in order to increase physical health monitoring within mental health services across Shropshire, Telford and Wrekin.
Page last updated 22 August 2022